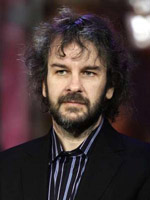 This is the second part of a feature running down the 10 best filmmakers working in the English language.  For part one, click here, and stay tuned in the coming weeks for a similar feature on European helmers.
PETER JACKSON
I know this one will bother some people but what Jackson accomplsihed with "The Lord of the Rings" trilogy was fucking historical. Who would have thought the man who made the small, personal thriller "Heavenly Creatures" could guide a film as big as "The Ten Commandments?" Furthermore, he gave the Tolkein story heart and soul, never sacrificing character for scope.
"The Lord of Rings: The Return of the King" was such a staggering work of brilliance I never wanted it to end (some felt like it never did, with multiple denouements).  But after investing nearly 12 hours with these characters, I wanted to know every last detail of what would become of them. And "King Kong" (I love it!) was among the best films of its year, a massive work with superb visual effects, spectacular art direction and design and a terrific Naomi Watts performance.
I look forward to "The Lovely Bones," one of the very few books I have read in the span of two days, unable to put it down. If any director can take us to the heaven described in that book, it is Jackson.
TERENCE MALICK
Malick's two films in the 1070s — "Badlands" and "Days of Heaven" — have been written about plenty since their release, the former more so than the latter.  And in fairness, "Badlands" is a better film.  Malick took the theory of a guy, a girl and a gun and made a sparse masterpiece.  The film was anchored by a brilliant Martin Sheen performance, simply electrifying and well supported by Sissy Spacek.
With "Days of Heaven," despite being weighted down by the presence of Richard Gere, the director conjured for us the world of the tough-times farmer.  Though I find the film slow, it's beauty is undeniable. But then we waited and waited and waited for 20 years for Malick to make another film. When he did, it was "The Thin Red Line," which though quite masterful had the misfortune to be released the same year as Steven Spielberg's "Saving Private Ryan."
Malick chose to make a meditative study of how war impacts both mankind and nature. Rumor has it there is a five-hour cut out there somewhere.  God would I kill to see that.  And finally, I think I am in a minority of those who admire "The New World," which almost silently transported audiences back to the time of Pocohontas and John Smith with a haunting lyrical beauty unmatched by many directors of today.
STEVEN SPIELBERG
I can feel those weapons being aimed at me as I write this, but I do not care, I call them as I see them. Spielberg is living proof that success can by thy enemy.  No other director has evolved in the manner Spielberg has since 1993, when finally winning that long overdue Academy Award for "Schindler's List" seemed to liberate him and set him free. It was never a secret he coveted the award, seeing it as some sort of acceptance into a club to which he was never sure that he belonged.
Of course he did. He should have won Oscars for "Close Encounters of the Third Kind," "E.T.: The Extra-Terrestial" and "Empire of the Sun" before 1993, if you ask me. That is not to say there have not been missteps, the dredaful "Hook" (so easy to fix) and "Jurassic Park: The Lost World" among them. Yet in his best work, one can see an artist at work, ever changing, reaching heights perhaps he never thought he would achieve. "Saving Private Ryan" is a sublime work of art, and what he did with "A.I.: Artificial Intelligence" was simply ahead of its time, ironically like Stanley Kubrick's "2001." In years to come "A.I." will surely be appreciated as one of his greatest works, demanding and challenging.
In 2002 he hit twice, first with the superb sci-fi thriller "Minority Report" — a darkly brilliant study of a future that looks very bleak (hailed by Ebert as best film of 2002) — and later with the frothy and fun "Catch Me If You Can."  I still cannot believe the Academy virtually ignored both of these films.
"The Terminal" was alright, well anchored by a terrific Tom Hanks performance, but alas, a film not to everyone's tastes. Hanks was brilliant, but the foreign accent was somewhat off-putting.  "War of the Worlds," meanwhile, aside from a goofy reunion at the end, was downright terrifying, reeking of 9/11 metaphors. And "Munich", his coldest film yet one of his finest, was startling in its matter of fact study of a murder squad sent to avenge a country in mourning.
Watching "Indiana Jones and the Kingdom of the Crystal Skull" this summer was like hooking up with with an old friend after many years: pure fun.  And I anxiously await his "Lincoln" film, which I expect will be superb. There was, maybe still is, some sort of fashionable thing that made it okay to bash Spielberg because apparently succesful films cannot be good films.  But he was great long ago.  After all, at 26 years old he made one for the ages and he's been fairly consistent ever since.
MARTIN SCORSESE
The darkest of directors, Scorsese takes his audiences to places that haunt the landscape of the mind, the place where nightmares live. I remember becoming aware of him with "Taxi Driver," which was unlike anything I had ever seen before.  I began to follow his career religiously. Oddly enough, even when he fails, his films are curiously entertaining — but he doesn't fail often.
"Raging Bull," "The Last Temptation of Christ," "Goodfellas," "The Age of Innocence," "Casino," "Gangs of New York," "The Aviator" and "The Departed" represent his finest efforts, all of them among the top American films of their time. His background in documentary has helped his films display a frank realism other directors struggle to capture. And by my count, Scorsese should have won Oscars for at least five or six of his films (hell they gave Ford four), beginning with "Raging Bull" in 1980, a stunning study of a man forever shadow boxing with himself.
The hiccups include "New York, New York," a wildly ambitious film that is often brilliant but ultimate fails, hurt by a terrible performance from Robert De Niro. "The King of Comedy" was a misfire upon release but has become regarded as one of Scorsese's finest films, with Jerry Lewis never better. "After Hours" was an odd little film that was well reviewed but never really found an audience, while "The Color of Money" won Paul Newman that elusive Oscar for Best Actor.
What Scorsese did with "Cape Fear" was interesting but never really elevated the film beyond the B-movie mentality it always had. "Kundun" was breathtaking to look at, beauitfully shot, but agonizingly slow, never pulling the viewer into the story and allowing us to get to know and perhaps understand the Dali Lama. The less said about "Bringing Out the Dead" the better. What a mess. Though flawed "Gangs of New York" is something quite extraordinary with a miraculous Daniel Day-Lewis performance.  And though many don't share my opinion, I admired "The Aviator" for its study early in the film of the Howard Hughes of 1930s Hollywood.
Finally, let's not forget his rock and roll documentaries, which have explored The Band, Bob Dylan and the Rolling Stones…the man is a genius.
QUENTIN TARANTINO
No modern day list would be complete without Tantino, even though his second feature remains his greatest work, something he may never surpass.  But that's okay, because just about everything he makes is wildly entertaining. "Pulp Fiction" changed the course of cinema, we know that, and it is a masterful work. But "Resevoir Dogs" was the film in which we first witnessed his confidence as a director, breaking the narrative into pieces (a Tarantino trademark now), inviting the audience to take the ride.
Though "Jackie Brown" disappointed me at the time of release, I have grown very fond of the film in the years since and realize that Tarantino wanted to make something radically different than "Pulp Fiction."  The "Kill Bill" films are kick-ass fantasies, homages to Hong Kong cinema and John Ford, thrilling to watch filled with strong dialogue, excellent performances and strong visuals, paticularly Part Two.  In any case, though he has a relatively small filmography, the artistic growth is there, without question.
That wraps it up.  If you didn't tell us in part one, have at it below: who are the best directors working in the English language today?