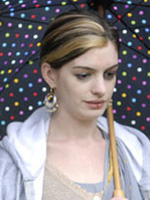 One advantage of the hectic festival environment is that, while seeing more movies in a month than is medically advisable, it offers a pretty ruthless method of separating the wheat from the chaff. If a film still sticks in your mind after seeing a million others in such a compressed timeframe, it clearly has something special. (For me, those would be the films in my London Top Ten list.)
On the other hand, there are a couple of films that, even if they seem quite impressive in the moment, ultimately get lost in the crush. And so it was with me and Jonathan Demme's much-vaunted "Rachel Getting Married."
One of the first films I saw in the festival press screenings, I enjoyed it for the funky looseness of Demme's direction and a couple of interestingly barbed performances — even if I didn't quite get the ecstatic wave of praise that greeted it in the US. A month later, however, with numerous other films jostling for attention in my brain, I find it difficult to remember much about the film at all… and that goes for the actors too.
Of course, that's an entirely subjective test, one that is largely irrelevant to awards prognostication — there are still plenty of ardent devotees declaring it the best film of the year (huh?), and they will no doubt continue to do so. Still, something caught my attention yesterday which suggested I might not be alone. In their always-interesting Oscar Futures chart, those wicked guys at Vulture sense a downturn in momentum for Anne Hathaway in the Best Actress race:
This category is getting pretty competitive — was she really as good as everybody thought two weeks ago?
One has to wonder. Even Hathaway's biggest champion, keen Best Actress-watcher Nathaniel Rogers, has his concerns, as Hathaway slides out of his projected five in the category:
She's aces in the role of a needy addict with a sharp tongue, (but) sometimes you want to slap her "Kym" and Oscar can be stingy when it comes to females with abrasive edges. The film's true appeal is in the broader ensemble feel rather than a star vehicle — I'm worried for her.
Tellingly, the contender supplanting Hathaway in Rogers' predictions is "Happy-Go-Lucky" star Sally Hawkins, the lady who will no doubt be duking it out with her for the comedy Golden Globe — and who, I think, will ultimately win that race.
Hawkins may not have Hathaway's star power, but her film has been equally adored by Stateside critics (for those who place stock in Metacritic scores, it's sitting at 84 to "Rachel"'s 82) and she has the likes of Roger Ebert waxing lyrical about her. It helps that her character, Poppy, is considerably more cuddly than Hathaway's Kym, even if some viewers find her a bit hard to take.
Rogers' point about the film's ensemble nature is a good one too. Hathaway's co-star Rosemarie DeWitt (who, I must agree with Kris, is the film's real standout) appears to be gathering momentum in the Best Supporting Actress race — hopefully at the expense of Debra Winger.
Meanwhile, Cinematical is among those flying the flag for Bill Irwin in the Best Supporting Actor category, declaring his work "the richest, most generous performance I've seen from anyone this year." (I beg to differ.) Whether these possibilities pan out or not, the fact that Hathaway doesn't have the undivided attention of her film's fans could be a disadvantage.
I'm not saying that Hathaway, or the film, are necessarily fading. She's still well-positioned for a nod, even if a win is surely impossible. But as we've said before, Best Actress is an unusually rich category this year, with several strong seen contenders, and the heavyweight likes of Kate Winslet in "Revolutionary Road" and Meryl Streep in the just-glimpsed "Doubt" still waiting to pounce. Now is not the time to appear vulnerable.