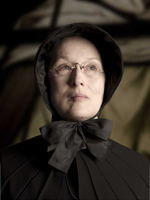 Miramax honcho Daniel Battsek and actresses Meryl Streep and Amy Adams joined director John Patrick Shanley tonight in introducing the world premiere of "Doubt" as the AFI Fest's opening gala presentation.  The film, adapted from Shanley's stage play, has quickly become the lead Oscar pony for a studio that dominated the awards circuit last season.
The film was projected digitally, as prints haven't yet been made, and it was deemed "wet behind the ears" at the top by Battsek; Shanley hadn't even seen the cut in full himself yet.  We're talking right off the AVID, but it was complete and seemed to capture the respect of the crowd in attendance.
Watching the film, I was suddenly reminded of one of the year's developing themes for American cinema: accountability.  It's front and center in "Frost/Nixon," a journalist-as-hero yarn about Richard Nixon's overdue apology to the American people.  It's certainly lurking beneath the surface of "W," a character study first but an attempt at explanation on other levels.  "WALL-E" warns of a lack of accounting for our actions, while "The Dark Knight" presents a hero who understands the accountability he owes to himself.  "Gran Torino" will be working on similar levels.
Anyway, I've gone into all of that before, but it stuck out to me again tonight.  Meryl Streep steps in for Cherry Jones as a nun hunting a troubling confession for much of the film's two hour running time.  The zeitgeist can't help but insinuate itself into the symbolism and it just reminds, yet again, that 2008 is an amazingly internal year for filmmaking in this country.  Nothing stands out as groundbreaking.  Nothing approaches classic status.  But everything lurks on a sustained, subdued level of reflexivity.  It's kind of fascinating.
But the AFI Fest has taken flight.  There are a lot of films showing over the next week that I'm going to try my best to cover.  It seems I'm pulled 10 different ways these days, and I have to tip my hat to Guy for the gusto to really dive into London for us this year.
I'm eager to finally check out entries like Steve McQueen's "Hunger" and Ji-woon Kim's "The Good, the Bad and the Weird."  I'm really looking forward to the Heath Ledger tribute screening of "Ned Kelly" on Tuesday, as well as the Danny Boyle event at the end of the week.  And, of course, the full monty: "Che" at the Chinese tomorrow night.
It should be a whirlwind, all roads leading to Edward Zwick's "Defiance" in the closing night gala.  Tis the season…