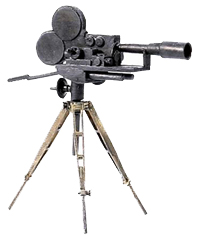 Swoosh.  Bang.  Grunt.  Clink.  Crash.
These sorts of sounds can add a lot to a film's mood and plot even though they are not recorded during filming and have to be created and mixed in later on.
The individuals who create these effects are rewarded for their efforts in the category of Best Sound Editing.  The category used to be called Best Sound Effects Editing, which, in my opinion, is a better name.  Supervising sound editors and their teams are generally the individuals rewarded here.
This category used to only have three nominees but was expanded to five two years ago.  This makes the category somewhat more difficult to predict, though there are five films this year that really strike me as frontrunners.
Ever since "Monsters, Inc." scored here in 2001, animated films, particularly those of Pixar, have fared very well.  I'd be very surprised if Andrew Stanton's "WALL-E" failed to continue that trend.  Sound effects are key to any animated film so many of the sounds have to be created.  There is nothing to be captured while filming because, well…there is no filming!  For Stanton's effort in particular, the sound effects were especially pivotal given the minimal dialogue.
Jon Favreau's "Iron Man" was another summer film where the sound effects were crucial to the film.  The explosions, clanks of armour and numerous experiments of Downey all required sound manifestation.  A huge hit and critically respected, the film in really depended on its sound editing and it flowed perfectly into the visual sights.  I'd be quite surprised if it didn't get nominated here.
"Indiana Jones and the Kingdom of the Crystal Skull" was filled with sound effects in virtually every scene and I cannot deny they were very effective.  Even if the film were to fail in every other category, I suspect it would find a home here.  Steven Spielberg's "Minority Report" managed to do as much six years ago and "Indiana Jones and the Last Crusade" won its sole statue here in 1989.
In Christopher Nolan's "The Dark Knight" we heard the explosions and the car chases we would expect in a Batman movie.  While the sound effects were not as prominent or as obvious as in the Stanton, Spielberg and Favreau films, the critical respect and historic hit status of the film will likely be able to overcome that.  One need only think to last year when "The Bourne Ultimatum" managed to not only get nominated but also win the category over "Transformers."
Edward Zwick films also fare very well in the sound categories.  "Defiance," starring Daniel Craig, will bring us back to World War II, where gunfare and rustling will be on the forefront.  The film wants to be a major Oscar player.  Regardless of quality and its ability to score in the major categories, if it manages to find a home anywhere, I would say the sound categories are at the top of the list.
Oddly enough, I've felt for quite some time that these five films – "Wall-E," "Iron Man," "The Dark Knight," "Indiana Jones and the Kingdom of the Crystal Skull" and "Defiance" – would end up being our nominees.  But there is still plenty of competition floating around.
One example is another Daniel Craig film: "Quantum of Solace," which will undoubtedly feature prominent sound effects.  But I remain skeptical that a Bond film will be nominated in a non-song category in the foreseeable future (and even song is doubtful).  If "Casino Royale" failed to receive a single nomination, I'm led to believe that the Academy is not that interested in the franchise as an Oscar vehicle.
"The Day the Earth Stood Still" remake is another film that has the potential to be a major hit and also prominently feature sound effects.  We will see in December whether the film is actually any good and makes any money.
"Body of Lies" was pretty much dead on arrival, with disappointing reviews and disappointing box office.  That said, it cannot be denied that Ridley Scott always put together excellent sound teams and this is normally the sort of film that would be embraced in this category.
"The Curious Case of Benjamin Button" is in an interesting place, currently enjoying frontrunner status across the board.  I would not be surprised to see the film score here, especially if a sweep is afoot.  The film will feature numerous interesting scenarios and the war scenes alone could put it in contention.
"Australia" is another film that could – and the key word here is "could" – do extremely well across the board in the crafts categories.  As I stated in a recent column, the sound could be front and center given the necessity of aurally creating not only World War II but also the Outback.
I'll finish by mentioning Bryan Singer's "Valkyrie," which most people seem to have forgotten is actually being released this year.  Despite the numerous release date changes and the whipping boy Tom Cruise has become, Singer remains a respected director.  And it still strikes me as dangerous to rule out a war film with a Christmas release date in a category such as this.
That's it for the sound categories.  Next week we move into Best Film Editing.