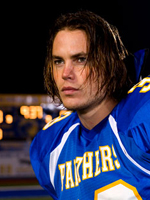 Off topic, of course, but I wonder if everyone else is as disappointed with some of the fall's mid-season series as I am.
My DVR is generally packed with "Friday Night Lights," "The Office," "Heroes," "The Shield" and yeah, "The Big Bang Theory" (I love it — it's harmless).  But at least three of those are a total drag this season.  "Lights" hasn't learned the soap opera lessons of its second season and is settling into another melodramatic groove, while "Heroes" is just too convuluted (as usual).  I honestly just watch it out of habit at this point, but I derive no enjoyment out of it.
"The Shield" is properly building the tension for a Shane/Vic stand-off, but I can't shake the feeling that it'll be a soft landing.  "The Office" is hilarious as always, and "Big Bang" is my guilty pleasure.  Thank God for small miracles.
I latched onto the first two episodes of "My Own Worst Enemy, glued to the set and eating it all up, only to feel a weird lull during the third episode.  Boredom set in and suddenly I got the feeling that the show doesn't have much space to grow.  Maybe it's just me.  And I also picked up "Supernatural" on a friend's recommendation this season.  Very cool show.
Mainly, I just can't wait for "Lost" to come back.  Blew my mind last season.
Anyway, you guys?  Thoughts on the fall TV season?  Agreements?  Disagreements?