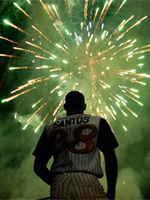 Whew. A fortnight and 60-odd films later, I have reached the end of the London Film Festival. It came to a rousing close today with "Slumdog Millionaire," a film for which I can only echo the enthusiasm that has been expressed nearly everywhere else — a fresh, thrilling, beautiful marriage of classical (even fairytale-style) storytelling and edgy stylistic verve. Plenty will be written about this beguiling work in the months to come, but for now, I'll just say that it satisfies and surprises on just about every level.
I've tried to keep up with the pace with my review roundups, but inevitably, I've wound up with a backlog of films I haven't mentioned yet. So what follows is a quick catch-up effort, looking over some of the lower-profile hits and misses in 100 words or less.
I will get into some bigger films in due course — Steve McQueen's harrowing "Hunger" and Rian Johnson's undervalued if occasionally precious "The Brothers Bloom" are two titles that merit more detailed discussion. And, as I've said before, there's no need for me to discuss films that are already old news in the US (though I will say I finally caught up with "Frozen River" and was impressed by its tight construction and Melissa Leo's deeply felt lead turn), or have already been covered on these pages. (I have similar sentiments to Kris on Ari Folman's exquisite but overly distancing "Waltz With Bashir.")
So here's a rundown of the littler guys, ranging from (to filch from the title of one of my favourite festival pics) the good to the bad to the weird:
SUGAR (***1/2): One of the strongest American entries in the festival, Ryan Fleck and Anna Boden's worthy follow-up to "Half Nelson" shares that film's lyricism and humanism, but paints on a broader social canvas. The story of a young baseball pitcher from the Dominican Republic embarking on his Stateside career, it adds new textures to the sports-movie genre — no other baseball film has conveyed the knife-edge stakes of league politics more effectively. A rare portrait of the American Dream that skirts sentimentality, it benefits from the brooding, vulnerable presence of lead actor Algenis Perez Soto, and the hazy, summery tones of Michael Brooks's cinematography.
EASY VIRTUE (***): Turning Noel Coward's creaky family melodrama into a point-on replica of one of the same writer's brittle society comedies was an inspired move, and it's not the only surprise this sleek bauble of an entertainment has to offer. Jessica Biel proves an unexpectedly spry comedienne, while more comfortably cast actors like Colin Firth and Kristin Scott Thomas (in impeccable ice-queen mode) add class, but the film's attempts to modernize the 1920's-set proceedings has mixed results — the score, with its jazz-age interpretations of Rose Royce and Billy Ocean, is particularly distracting. Still, it's good to have director Stephan Elliott back, and better still to see he's lost none of his eccentricity.
CITIZEN HAVEL (***): This witty, astonishingly intimate documentary is the culmination of over a decade spent filming the private and professional lives of Vaclav Havel, the controversial playwright and political dissident who in 1992 became the first president of the Czech Republic. The material might sound dry, but the film benefits from a keen eye for quirky domestic detail — Havel's fussy dressing habits are a running source of amusement — and the intelligence and humor of the man at its center. At two hours, film is a little wearying as it focuses on the intricacies of Czech party squabbles, but this remains an impressive, vital historical document.
DIVIZIONZ (***): Playing a little like a Third World "Hustle and Flow," this funky little film coasts on charm, despite some very rough edges. Following four Ugandan slum-dwellers as they try to forge a career on the local hip-hop scene, the film compensates for its narrative lulls with an appealing, fresh-faced cast and a vivid sense of place. The film loses its grip on the material in the last act, with a series choppy fadeouts obscuring the character arcs and a rushed coda that adds little, but this is still an exciting journey into an unfamiliar culture. Killer soundtrack, too.
LET'S TALK ABOUT THE RAIN (**1/2): With an obvious debt to Woody Allen, Agnes Jaoui and Jean-Pierre Bacri incisively milked the vanities and insecurities of the French bourgeoisie for a delightful pair of comedies, "Look at Me" and the Oscar-nominated "The Taste of Others." Their latest is a similarly wry, intelligent divertissement, but it lacks those films' warmth and depth of character. The story of a budding feminist politician waylaid by a crew of bumbling documentary-makers, it's overly plotted to begin with, and the film's diversions into farce don't quite sit with the narrative — though it does offer a couple of the year's best sight gags.
TELSTAR (**1/2): An intermittently fascinating and frenetic biopic of Joe Meek — the British record producer who, working from a poky flat in North London, masterminded such key  50's/60's hits as "Have I The Right" and the eponymous tune, before succumbing to madness and bankruptcy — this story hasn't been sufficiently remained from its original stage incarnation. For a film about pop, it makes only the most cursory of nods to the outside world, with the characters seemingly existing in a social vacuum. Still, Con O'Neill's furious, mile-a-minute portrayal of Meek is something to see — though Kevin Spacey's supporting presence is more a distraction than an asset — and it's packed to the rafters with glorious music.
REVANCHE (**1/2): Austria's submission for Best Foreign Language Film came as a disappointment to me, coming off some glowing Telluride notices. An extremely well-acted but narratively pat melodrama from the promising Gotz Spielmann, it begins with a botched heist by a Viennese ex-con and his Ukrainian prostitute girlfriend. Mapping the fallout of the event for the concerned parties, including a traumatised cop and his lonely, broody wife, the film links the principals in Paul Haggis-style fashion, but the pace is glacial and the tensions too politely drawn. The Academy may be drawn to its solemn tone and good taste, but "Revanche" could really use some rougher edges.
AFTERSCHOOL (**1/2): Much admired by a number of the critics I spoke to, this aesthetically challenging film charting the aftermath of the death of two pupils in a wealthy American prep school has a number of arresting interludes, but offers little new perspective on the adolescent experience other than that, well, it's hard. There is a great film to be made about the YouTube generation, but while "Afterschool" makes many interesting intertextual points about the nature of video, the characters are a little too calculatedly blank for it to really take hold. The long takes and haphazard compositions recall Gus Van Sant on one of his more outre days, but without Van Sant's thematic poetry.
SHIFTY (**1/2): A solidly constructed but over-manicured morality tale about a young London drug dealer reunited with his gone-straight childhood friend, writer-director Eran Creevy's debut feature is mainly notable for having been shot in just 18 days under the FilmLondon Microwave scheme for nurturing new talent. There's a well-evoked sense of the organised bleakness of outer-London suburbia, and a nicely understated lead turn from Riz Ahmed (who recently received a BIFA nomination for his pains), but the film is weighed down by its dour tone, not to mention the story's complete inability to surprise.
SEX POSITIVE (**1/2): A commendably frank and impeccably well-intentioned documentary portrait of Richard Berkowitz, an outspoken S&M sex worker who became one of the earliest safe-sex campaigners amid the panic and confusion of the 1980's AIDS crisis. A clear case of message over medium, it's not very innovatively assembled, it's held together by the compelling — and not entirely likeable — presence of Berkowitz himself, whom the film takes great pains to avoid martyrizing. I was nonetheless a little disappointed by the film's insularity: for all the valuable awareness it raises, it does little to reverse the misconception that AIDS is a "gay" disease, and the global reaches of the crisis aren't touched upon.
A LAKE (**): The kind of work that gives art-film sceptics ammunition to make their case, this gruellingly sparse tale of a near-catatonic woodcutter, engaged in an overly intimate relationship with his sister, boasts strong classical storytelling in the Bresson mold, but obscures it beneath an excess of self-regardingly "difficult" technique — shooting in near-darkness, barely audible dialogue, a constantly shuddering camera. Some think director Philippe Grandrieux a genius, but I'm not sure we learn anything from the challenges his film poses.
I'M ALIVE (**): What begins as a promisingly compassionate study of damaged lives, as a hard-up builder accepts a job guarding a corpse for one night, escalates into ludicrously overbaked thriller territory, each twist less credible (and less interesting) than the next. Vast chunks of clumsy exposition, courtesy of conveniently-placed incidental characters, and sermonising dialogue sink the enterprise, though the lovely Giovanna Mezzogiorno is a bright spot in an understaded, touching role that unfortunately has no bearing on the wider narrative.
OF PARENTS AND CHILDREN (*1/2): Fighting it out with "The Other Man" for the honour of the worst film I saw at the festival, this trite, occasionally incoherent Czech family melodrama forces a sense of macarbe quirkiness in its first half (via gauchely integrated vignettes involving hemorrhoids, cannibalism and matricide fantasy) only to drop all such affectations in favour of over-earnest moralising on the nature of parent-child relationships. Both modes of operation are equally perplexing, with matters not helped by pickaxe-style editing and an oppressive score that fills every scene like candyfloss.
And there you have it. A couple of awards were handed out at tonight's closing-night screening — I'll offer a quick tidbit on those tomorrow, together with my own best-worst citations.