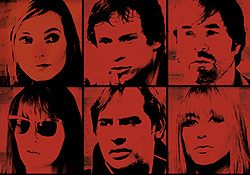 Germany has hit something of a sweet spot with the Academy of late, having won Best Foreign Language Film twice in seven years, and scoring two additional nominations — all with somber, rock-solid takes on aspects of the country's fascinating 20th-century history. (Last year's winner, "The Counterfeiters," may have been from Germany's neighbor Austria, but it was a clear continuation of the trend.)
So I'm not at all surprised to hear whispers that this year's German entry, "The Baader Meinhof Complex," is going down well at Academy screenings. A weighty, expansive and absorbing study of the war of terror waged against the state by the radical Red Army Faction in 1970s Germany, as well as the personal conflicts raging between its three leaders, it ticks any number of Academy boxes: it feels 'important' yet accessible, exotic in subject but familiar in form. Intelligently structured and immaculately crafted, its initially daunting 150-minute running time fairly zips by.
Yet it isn't quite a great film. Where Florian Henckel von Donnersmarcks's stunning "The Lives of Others" managed to filter volumes of political context through a finely wrought personal narrative, "The Baader Meinhof Complex" — admittedly working within the bounds of non-fiction — occasionally struggles to locate the human complexity within the history.
The three protagonists speechify to rousing effect, but their psychological motivations and vulnerabilities remain frustratingly opaque to the end. Fine actors like Martina Gedeck and Moritz Bleibtreu consequently can't find enough notes to play in the portrayals of the title characters; more compelling is Johanna Wokalek, who, as Baader's wife Gudrun, colors her political passions with a fierce sexuality.
Uli Edel directs with a sure, selfless hand, placing story before style, which makes sense with story material this rich. While his approach borders on the prosaic at points (I could do without such literal music cues as "Blowin' in the Wind"), this is still robust meat-and-potatoes filmmaking: not as innovative or as challenging as other fare on offer, but nutritious nonetheless. The density of incident and detail crammed into the film's frame is impressive, but it's hard not to come away wishing one knew the people at its centre a little better.