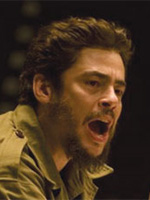 Since its contentious debut at Cannes in May, Steven Soderbergh's "Che" has attained a  reputation in certain quarters as some kind of intimidating four-hour monolith, even a grand folly. The 252-minute running time is invariably the first detail given about the film, a figure that seems to awe and repel people in equal measure.
So it was interesting, at the London Film Festival, to watch "Che" in the format Soderbergh originally intended, and as it will eventually be distributed in wide release: as two separate films screened, in this instance, two days apart.
I think it's the right way to go, not from a commercial perspective (though probably that too), but an artistic one. For "Che" is no simple, single sprawl that has been bisected, miniseries-style. We're talking about two individual, self-standing movies here, each one distinct in rhythm, tone and texture. Watching "Guerrilla" (Part Two) this afternoon, after "The Argentine" (Part One) had been knocking around in my head for 48 hours, gave me the appropriate distance to reflect on the changes that occurred in the man in the gap between the two narratives; I got the sense I was watching a life in progress.
Both films are fine, muscular feats of storytelling, utterly compelling through their accumulation of military and domestic detail. There's also a preoccupation with landscape here that recalls the earthy stateliness of 1970's European art cinema — the Taviani brothers kept coming to mind for some reason, though they never made anything remotely similar. Despite the running time, barely a scene in either film feels wasted — if anyone's life bears such intense scrutiny, after all, it's Guevara's.
"The Argentine," which flips between the early revolutionary actions of Guevara in 1950's Mexico City and his legendary 1964 UN visit, is, structurally and stylistically, the more ambitious of the two films, mixing beautifully crafted faux-documentary footage with rousing combat sequences. I was more moved, however, by the elemental, elegiac "Guerrilla," which follows Guevara's last days as he leads rebel forces in the jungles of Bolivia. The filmmaking here is more stripped-back, the pacing more languid, but it's here that Benicio Del Toro's keenly observed, refreshingly low-key performance really comes into focus.
Both films are richly imperfect works, but I find it difficult to square with the critics who have called "Che" a "mess," or variations of the term. Dense and inescapably large, yes, but hardly messy. This is no-frills, narrative-oriented filmmaking, straightforward in its construction and unfussy in its aesthetic. Even the time jumps of "The Argentine" are negotiated with practicality; if anything, I could have stood a little more auteur flair. Nonetheless, in its balance of intimacy and breadth, this is a Soderbergh work through and through, and I applaud him for evidently yielding to no-one in his conception of the project.
Tomorrow, incidentally, is the last day of the festival, upon which I shall finally be seeing "Slumdog Millionaire." There are still numerous films I've seen that I haven't yet covered on these pages, so expect a couple more capsule-review roundups, with the odd short take and even — time permitting — a full review or two.