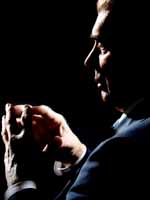 For the most part, I really enjoyed Sasha Stone's recent "State of the Race" column at Awards Daily.  Stone's been kicking around this beat for longer than she'd probably care to remember and she has a gift for thinking deeply about the insanity of an Oscar race.  But I think she takes the issue of "tension" this season slightly over the top by leaning a bit too heavily on the eagerly posted sentiments of a new-to-L.A. blogger trying to make his mark.
She starts like so:
Over at Hollywood-Elsewhere, Jeff Wells reports that both Milk and Frost/Nixon are pretty good, in his estimations.  He gives them both about an 8.5 on a scale of one to ten but says he doesn't understand what the early impressions of Frost/Nixon were about and the so-called bad buzz he heard about Milk was also unfounded.
She then quotes Scott Feinberg, an Oscar blogger who seemed to think people with a measured response to "Milk" had somehow lost their credibility because they didn't leap at the hero worship of the tale and felt the film didn't resonate as deeply as it might have.
To begin with, it's clear Feinberg made the comment to elevate his status a bit.  "Look, people send me tips."  That kind of thing.  But beyond that, we're not at the stage of rival publicists killing this film…yet.  And while I'm sure Wells understands that, I'm not sure that Feinberg does.
Long lead press and trade features staffers made up the majority of those who'd seen "Milk" prior to yesterday's trio of screenings in California (two for the press here in L.A. and a premiere/benefit in San Francisco).  There's no agenda for them to convey lukewarm sentiments to the film, so to blow their reactions and their motives into something false is very irresponsible.
Moving on to Wells, today he is forced to defend his declaration that anyone who took away an overly haloed reaction to the film and its handling of a clearly beautiful man is "mean spirited" and lacks "compassion."  Hard not to take that as an insult, and I'm not even someone who was writing Wells with these "tips."  I'm just a bloke who happens to share some of the reserve of his tipsters.
So to bring it back around to Stone and her column, I don't think we're in the midst of a big conspiracy theory season and I really don't think it's fair to frame it as such.  These things become inflated and snowball on the blog-o-sphere until reality is lost in the shuffle.
Just as an example, our own Guy Lodge posted a controversial review of "Frost/Nixon" out of the BFI London Film Festival a few weeks ago.  Wells picked up the story and turned it into something finite, "the London naysayers," etc.  So did other outlets.  Sure, some of the reception to the film was chilly in Britain, but to read Lodge's thorough assessment would have been to understand things as gray, not black and white.  And leave it to our resident Brit to step in and at least try to stop the over-amplification:
"London haters" is a bit strong, I think. For one, I certainly didn't HATE the film — it's too intelligent and well-crafted for that. I just felt no emotional connection while watching it.
So there are a few concerns here.  At the top, I think we as bloggers have to be careful to understand the context of our work and how that context can be dismissed with a quick quote here and there.  That is a lesson I truly hope Feinberg learns sooner rather than later, for his sake and, certainly, for the sake of the LA Times, who rather hastily threw him an editorial voice after behind-the-scenes plans for the upstart fell through.  But this idea of "now, now, now," a "boil it to an essence" brand of journalism is, above all else, why a distaste for what we do can so quickly present itself.
An Oscar season isn't defined as early as September or October so we really shouldn't be looking to do so by holding the second-hand opinions of others as gospel of any sort.  But in that same vein, we can't decide to tear down their assessments as unfounded simply because they weren't in line with our own.  It simply isn't fair to begin a character assassination campaign against those who aren't on board for "Frost/Nixon" and "Milk" 100 percent.  That is the perpetuation of a new and, if less damaging, certainly more disrespectful lie.
With that in mind, I'll simply leave you with one of Hollywood Elsewhere's commenters:
I love that you're challenging the integrity of anyone who might not like this movie. Mean spirited? It sounds to me like a defensive reaction on your part, since — reading between the lines of your quick review — you seem to know that the film isn't anything special, but feel compelled not to be regarding as cynical or "overly demanding" yourself.