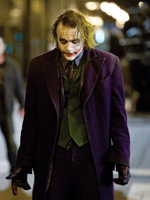 I've held off on linking to Geoff Boucher's three-part interview with "The Dark Knight" director Christopher Nolan at Hero Complex for two reasons.  First of all, it just seemed wiser to wait until it had run its course in full.  But mainly, I was waiting on the inevitable Oscar query.
Obviously, as Anne Thompson noted in a recent item, an interview like this is strategically placed to launch what hopes to be a successful Oscar campaign for the film.  Yes, the news peg of the Scream Awards was significant, but this kind of a deep one-on-one with a filmmaker of Nolan's caliber serves a specific, immediate purpose: get "The Dark Knight" back on the radar in a deep, tangible way before Oscar advertising kicks in by the middle of November.
In today's third and final entry, Boucher finally gets to the issue of awards, specifically the potential for Heath Ledger's instantly iconic portrayal to land a nomination for Best Supporting Actor.  In response, Nolan had this to say:
I think the thing that has always been important to me in light of Heath's death is the responsibility I've felt to his work. The responsibility of crafting the film in such a way that his performance came across the way he intended. Clearly, that has been the case. That's one of the reasons I take such pride in the film.

I felt a great wave of relief, really, as people first started to see the performance and it was clear that they were getting the performance. It's easy to forget with everything that's happened what an enormous challenge it was for Heath to take on this iconic role. He rose to that challenge so admirably that any expression of people being excited or moved by his performance is a wonderful thing. Whatever form that takes. People coming to see his performance and getting it. It's been extremely satisfying for all of us already. Anything that adds to that would be wonderful.
Do yourself a huge favor and read this series: Part One, Part Two and Part Three.  Whether you're a Bat geek, a recent convert or simply an admirer of Nolan's work, there is something for everyone.  A fine interview and, as I've noted before, a fine outlet for geekdom in Traditional Media.