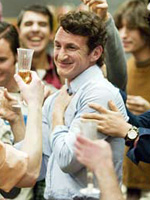 This is why I don't do the festival thing.  Multiple screenings back-to-back always plagues the faculties.
Anyway, David Poland was eager to iPhone in his "First!" response on "Milk," and while I agree with his assessment of Sean Penn's phenomenal portrayal, I can't share his overall enthusiasm for the film itself.
On the whole, it's a shame Gus Van Sant was working from such a by-the-book, greatest hits screenplay, but his creativity as a director allows the film to steer clear of some anticipated pitfalls.  I was more impressed by Josh Brolin's work than I expected, stepping into what could have been a flat villain role and really bringing some subtlety and layers.  However brief the performance, I think it might be his best work to date.
Additionally Emile Hirsch, who generally irritates me to know end, added a spark to the film that was pleasantly surprising.  And Harris Savides's work on the camera, combined with the expected artistry of the editing, elevates Dustin Lance Black's work to greater heights than it might have deserved.
More in the way of a review later on.
Following "Milk" up with "Frost/Nixon" was interesting to say the least.  It's liberal rah-rahing of a different sort, and I confess I liked the film more than our own Guy Lodge did.  It lags in the first two and a half acts, struggling to find an element that could bring something more to Peter Morgan's stage play.  When it finds the respect for Nixon that it needs, the film finally understands its own potential.
The discovery is a bit too late, however, to connect in any meaningful way, but Frank Langella's starring turn slowly moves out of caricature as the narrative pushes forward.  The centerpiece of the tale — a telephone conversation that probably won Langella the Tony — lacks the dramatic tension it managed on the stage.  But phone conversations have never been cinematic.  When the confrontation comes, the result is satisfying enough and the camera's lingering on Langella's pained, introspective face probably secures him the Oscar nomination in those moments.
Oliver Platt gets the money lines, Sam Rockwell gives a solid if slightly cliched portrayal and Michael Sheen adds more here than he did in the theater.  But on the whole, it's a Ron Howard straight-forward yarn that isn't concerned with pushing the envelope.  It works, if only because it never challenges itself.
There's no need to really dig in with a full review and cover the same ground as Guy did a few weeks back, but two points spring to mind as important.  It's always fantastic to see Kevin Bacon, probably one of the most underrated actors working today, take on a role with this kind of potential (he plays Nixon's protective former chief of staff).  But Ron Howard doesn't give the character the proper space to mean what it could, despite a final private moment with the former President that hints at the depth of his care and admiration.
Similarly, it was a crime to reduce Rebecca Hall to window dressing and arm candy.  An actress as beautiful and talented as she is could have done more with something substantial, and it certainly wasn't a role that couldn't have used some injected depth.  She still gave one of the most undervalued performances of the year in "Vicky Cristina Barcelona," so perhaps she'll get her due in some fashion later in the year.
"Doubt" later in the week at AFI and a special "Che" screening at the Chinese over the weekend.  It's all happening…