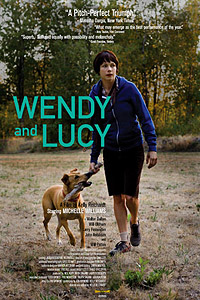 (BFI London Film Festival)

Quietly, steadily and with markedly little vanity, Michelle Williams is blossoming into a truly remarkable actress. This is not exactly a revelation: even before her Oscar-nominated turn in "Brokeback Mountain" brought her to wider attention, her work in films like "Dick" and "Me Without You," not to mention as the most interesting member of the "Dawson's Creek" ensemble, made it clear she was going places.
2008 looks to be something of a watershed year for Williams, in which she has made clear strides towards identifying the independently-oriented performer she wants to be (the awkward paycheck job of "Deception" notwithstanding). Not content with holding her own in the dazzling "Synecdoche, New York" ensemble, she has, for the first time, taken on front-and-center roles in two very challenging projects.
In "Incendiary" (reviewed here), Williams impresses by remaining focused when the film falls apart around her; happily, in Kelly Reichardt's sad, spare and altogether beguiling "Wendy and Lucy," she has found a project with the discipline and intelligence to match her own.
I wouldn't normally begin a review by foregrounding the star to such an extent, but the truth is that Williams's performance is both integral to, and responsible for, the film's success; without the silently expressed complexities, the shadows of days past, that she brings to the character of Wendy Carroll, the film would amount to little more than a sketch, a landscape as unmoored as its protagonist.
Williams occupies nearly every frame of the film as Wendy, a young drifter on her way to Alaska, hoping to make enough money at the harsh fish canneries there to forge a new beginning for herself — though we never learn what that may entail. We sense she doesn't know either; Alaska appears to be merely the latest in a series of ever-shifting goalposts marking her deep internal insecurity.
Wendy's only companion on this journey, and evidently the only living thing for whom she has any substantial feeling, is her dog Lucy, a yellow-gold mongrel who returns her devotion in equal measure. When their rickety car finally breaks down in Oregon, Wendy's already tenuous financial situation hits a brick wall as her thin wad of dollar bills barely covers the vehicle's towing fee. A desperate attempt to shoplift dog food results in her getting caught and detained by police — and separated from Lucy. After her release, the dog is nowhere to be found.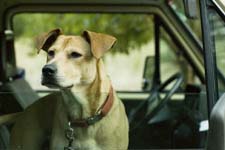 The rest of the skeletal plot tracks Wendy's search for Lucy at one level, but in so doing, she is also seeking her misplaced sense of purpose and identity — what, in other words, drove her to this difficult but self-chosen lifestyle. It's a gentle, simple narrative that recalls a strain of children's storytelling in its portrayal of both humanity and environment as equal threats to the disempowered individual. (In some ways, it plays as a bleak art house take on the 1985 Disney pic "The Journey of Natty Gann.")
But Reichardt, working (as she did in her much-admired previous film, "Old Joy") from a short story by Jon Raymond, builds these bare bones into an intricate moral and sociological framework.  The films operates alternately as an elegy to the virtues, absences and limitations of small-town America; an investigation of the existence of human good in an increasingly disaffected population; and above all, as a critique of rugged individualism in the 21st century, wherein the barriers of contemporary have made that great American notion into an inadvisable impossibility.
As such, "Wendy and Lucy" covers similar terrain, both geographical and thematic, to last year's "Into the Wild," a film which found both heroism and immaturity in its protagonist's defiantly independent lifestyle. Just as Wendy lacks the self-possession of Christopher McCandless, "Wendy and Lucy" hasn't the breadth or grandiosity of Sean Penn's film, but it is, in many respects, the richer, more emotionally expansive work, more concerned with the subtleties of everyday human encounters and less awed by its own wider resonance.
For Reichardt, it represents a significant step forward from "Old Joy," a film that, while beautifully wrought and delicately performed (that film's star Will Oldham returns here in a supporting role), felt a little too self-conscious in its minimalism, reaching for a universality that the threadbare narrative couldn't quite sustain.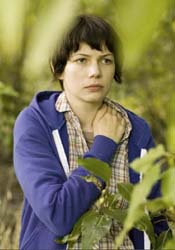 "Wendy and Lucy" is a more conventional film, but a far warmer one, which marries all Reichardt's formal strengths — in particular, the stripped visual poetry of her mise-en-scene, which locates beauty in the most barren of settings — to a more relatable dramatic spine, and the intangible beating heart that an actor of Williams's range and stature can provide.
Her sun-kissed, all-American looks washed out in favor of a dark, hack-sawed crop and drab corduroy cutoffs, Williams strikes a very different figure on screen here to anything we've seen from her before.  But the changes go beyond the cosmetic.
Her attention to physical detail is something to behold: from the loping, gangly walk, to the childlike eagerness of her fingers as they curl around a new possession, Williams uses every part of her being to express Wendy's statelessness. The voice, when it does come, is equally bruised and tentative, as if out of practice in an interpersonal context. Only when talking to Lucy does she sound alert and conversant.
It's a heartbreaking performance, one that could (and should) attract awards attention if enough people see it. More importantly, however, Williams's work is absolutely of a piece with the film, as varyingly intense or understated as each scene demands; no line or gesture feels self-seeking or over-thought. She has the confidence to raise questions and leave them in transit, much like the film itself.
As in all the finest road movies, "Wendy and Lucy" does not treat restlessness as a condition to be cured. By the end of this troubling, beautiful film, we're no closer to knowing what fate Wendy faces, or what she really wants, whether from Alaska or from herself — but we carry as much hope for her as we do fear.