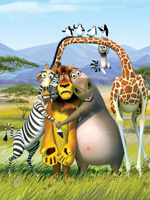 It looks like that rather flimsy Best Original Song category is finding a few more contenders to hopefully erase the embarrassment of last year's nominees (three for "Enchanted," nothing for "Into the Wild" — at least "Once" took the gold).
First up, will.i.am and Hans Zimmer have cranked out four new tracks for "Madagascar: Escape 2 Africa" which, if the competition falls apart, could find a place at the table.
It also looks like Rod Lurie's "Nothing But the Truth" will sport a new tune over the closing credits, a soulful little number by Coby Jones called, well, "Nothing But the Truth."
Lurie supplied us with the track (which he co-wrote with Jones) over the weekend.  Have a listen:
[display_podcast]
I like it.  Jones and Lurie might find some trouble going up against another low-key number from Bruce Springsteen of all people, but there isn't much in the way of quality competing for a spot in this category so maybe it could squeeze in alongside The Boss and Peter Gabriel.
Fox Searchlight is also high on the Bollywood-inspired "Jai Ho" from "Slumdog Millionaire," and with "High School Musical 3" dominating the box office over the weekend…who knows?  Meanwhile Jon Brion's "Little Person" from "Synecdoche, New York" has its fans (none of which are likely to be Academy members), while one of my favorite tunes of the year is — yes — Huey Lewis's "Pineapple Express."  Sue me.
More on the Best Original Song predictions chart.