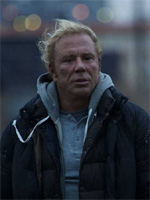 It's a rainy Sunday night in London, and darkness fell a whole hour earlier thanks to the start of daylight savings. All of which only made me happier to be seated inside the warm cavern of the Leicester Square Odeon for my favorite event of the London Film Festival — the annual Surprise Film.
Usually a hot title secured too late for inclusion in the main festival lineup, and not revealed until the title shows up on screen, the Surprise Film has a mixed track record. Festival director Sandra Hebron scored last year by getting "No Country for Old Men," but I'll never forget the groans of disappointment that greeted the opening credits of "Mrs Henderson Presents" in 2005.
In the foyer before the screening, whispers were spreading that this year's choice was either "Changeling" or "The Wrestler." So as the lights went down and the logo of the Venice Golden Lion prize flashed onto screen, announcing Darren Aronofsky's much-lauded new film, the murmur of approval around the theater was palpable. (Incidentally, I called this pick a few weeks back — mainly because I was so surprised not to see it in the lineup.)
But Hebron had more than one surprise up her sleeve tonight — unusually for the surprise slot, both Darren Aronofsky and Mickey Rourke showed up for a post-film Q&A. Nobody was expecting that, and it made for my most entertaining festival experience so far, though I'm now kicking myself for bringing neither camera nor notepad (d'oh!) to the screening. A terrific coup for the festival — kudos to Sandra.
As for the film itself, I'm still too shaken by it to offer much in the way of coherent thought, but count me among the yea-sayers. Deceptively simple in form but deeply probing as character study, it strikes me as exactly the right film for Aronofsky to have made at this point in his career. As someone who actively dislikes everything to do with the wrestling circuit, I had concerns about how much I could personally connect with the film, but it proved revelatory — sport aside, this is a story of the body as a war zone.
Rourke, meanwhile, gives the definition of a career performance, one that plays on his off-screen and on-screen histories in daring, fascinating ways — hard to imagine any other actor inhabiting the role so completely. I know there are plenty of theoretical arguments against it — the smallness of the film, the roughness of the part, Rourke's own Hollywood bridge-burning — but I can't conceive of any other actor rightfully winning the Oscar come February. This feels right.
Bouquets, too, to Marisa Tomei for crafting such a lived-in character from such bare script bones — can people stop harping on about her surprise win in 1992 and just admit she's one of the finest character actresses around these days?
The Q&A, meanwhile, was brief, casual and thoroughly engaging. Aronofsky and Rourke (looking far more trim than he did at Venice, incidentally, and in leather pants to boot) have a great, affectionate rapport between them — you sense these two have really been through something momentous together. (Enough so that Rourke can joke, when asked about wanting to work with the director: "I'd seen a couple of his movies and thought they were really good. Well, and one was okay.")
Interestingly, when Rourke was asked whether his boxing background came in at all handy, he admitted that for this role, he'd have been better off without it: "It's just a completely different game. I had to train from scratch. And I really hated wrestling before… had no respect for it. It's all choreographed, like theatre." He paused, looked down at his shoes, and mumbled, "I don't like theatre either."
This got the biggest laugh of the night, but Rourke was in fine form throughout. Moaning about how relentlessly Aronofsky made him train for the part, he quipped, "And this from a guy whose only physical activity is lifting his fork to his mouth."
The banter between the two flowed beautifully; when an audience member asked Aronofsky what inspired the stylistic change of pace, he answered, "I want to be like Madonna, reinventing myself," only to receive a scornful jab in the ribs from Rourke. "Not Madonna? What's wrong with her?" Aronofsky asked, mock-aggrieved. "How about David Bowie?"
Rourke rolled his eyes: "Springsteen," he said, chidingly. Aronofsky: "Nah, he's done the same thing his whole career. Very well, of course," he hastened to add. "Like that song in the movie." Upon which the two collapsed into laughter again.
Great chat, great movie, great night. (On a side note, I was seated right behind none other than Mike Leigh — he seemed to enjoy himself too.) If Rourke can maintain that level of charm in his public appearances throughout awards season, there's more than one reason I'd like to see him give a speech on Oscar night.