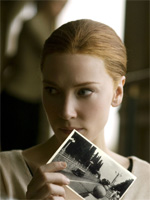 Apologies for the slightly delayed wrap. Much to discuss this week — here are the highlights:
• With some formerly hot prospects now off the radar, this week's Off the Carpet column surveys the landscape, and concludes that things look good for "Benjamin Button."
• "The Soloist" withdrew as the AFI fest opener; their loss is "Doubt"'s gain.
• With a trailer for "Gran Torino" finally emerging, we wonder if Clint Eastwood is the real frontrunner for Best Actor.
• The Gotham Independent Film Awards unveiled the season's first set of nominees — good news for titles like "Ballast" and "The Visitor."
• More impressions from the London Film Festival, including hot foreign-language contender "The Class."
• Still in London, we caught up with "Happy-Go-Lucky"'s superb Best Supporting Actor contender, Eddie Marsan.
• This week's edition of Tech Support put Art Direction in the spotlight.
• We were in a listmaking mood this week, rounding up some of the most scandalously unnominated actors of this era …
• … while John Foote reminisced over his personal favourite movie moments.
• And finally, who should host the Oscars? Our answer may surprise you.