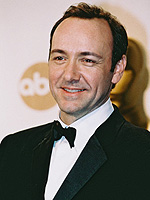 This morning I linked to our friend John Campea at The Movie Blog who offered up a list of 15 possibilities for host of this year's Oscar festivities.  Producers Bill Condon and Larry Mark are hard at work putting the show's particulars together (when Condon has a few moments away from that Richard Pryor biopic he's been writing), and sooner or later, an announcement will be made.
I agree with a few of Campea's suggestions.  George Clooney, for instance, is an inspired pick, the charmer of Hollywood without an enmy in the world — well, except for McCain supporters, I guess.  I also like the choice of Robert Downey Jr., though in 2008, it's almost TOO on the nose.  Rounding out the big names that make sense, I'd be on board for Tom Hanks as well, always adept at working a crowd.  But Steve Carrell seems to lack the right prestigious "umph," while Denzel Washington would prove to be too cardboard-stiff, I'd wager.
We've been there and done that with Steve Martin, Ellen Degeneres and Jon Stewart — new blood would be preferable.  And Steven Colbert would be a false echo of Stewart's attempts.  Will Ferrell and Ben Stiller — too silly.  Tina Fey — too one-note.  Jerry Seinfeld — too snooty.  And Ricky Gervais was a manifested pipe-dream from the start.  But I'd absolutely be on board if Condon and Mark want to hand over emcee duties to Uwe Boll.  Who wouldn't??  But you might as well toss in Kelsey Grammer in full-blown Beast make-up as a co-host at that point.
So the question remains: Who should be the host?  Who has the right amount of showmanship to off-set his dramatic faculties and keep the even keel a show like this needs?  Who has the right comedic reserve to tap into when necessary and who would absolutely light up the stage with his consistent determination to perform?
One man: Kevin Spacey.
Think about it.  The guy knows how to put together a production.  He knows how to carry the heavy weight of an undertaking like the Oscars.  His work managing the Old Vic in London should attest to that.  But what's more, he's the right mixture of jazz hands and well-postured presentation that an Oscar host needs to be.
That's my pick anyway.  I could see someone really outside the box being a good fit for Condon and Mark, like Sacha Baron Cohen or Jamie Foxx, or perhaps Will Smith or Hugh Jackman (who might find himself in the derby with "Australia") would work.  If I were to double dare Condon right now, however, I'd say call up Tony Todd and dig out the Candyman costume.  The Oscars are always a nightmare of sorts anyway, might as well embrace it.
Have your say.  Who would be the perfect Oscar host this year?