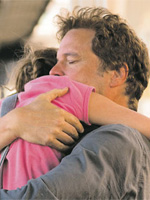 We've reached the midway point of the London Film Festival, and today's big event is the European premiere of "W." As I eavesdropped on assorted critics' reactions coming out of the press screening this morning, the dominant feeling appeared to be one of pleasant surprise; I have a feeling the film may find a rather warmer reception here than in its home country.
I'm still gathering my thoughts on the film, which I thought riveting in some respects and messy in others, though it's clear Stone has transcended the limitations of Stanley Weiser's script. Josh Brolin and Elizabeth Banks offer such persuasive, full-bodied characterisations that the Madame Tussaud's quality of certain supporting players (Thandie Newton in particular) pales by contrast.
With that, here's another roundup of notable films from the last few days, beginning with yesterday's starry but rather under-the-radar Mayor of London gala selection:
GENOVA (**1/2)
There is much to engage the eye and ear in "Genova," the new film from restless Brit auteur Michael Winterbottom. A return to his usual, more organic directorial style after the disappointingly conventional "A Mighty Heart," the new film teems with activity: from the loose, jazzy rhythms of the editing to the fragmented, eclectic soundtrack overlaying busy dialogue, and above all, superb location work that turns the labyrinthine alleys of the eponymous Italian coastal city into a playground of threat and desire.
Unfortunately, all this expertly orchestrated dressing only intermittently distracts us from the realisation that, as a feat of storytelling, "Genova" is a bust, supplying a wealth of environmental detail in lieu of genuine conflict or incident. At best, the film serves as an interesting showcase for Colin Firth, here largely stripped of the befuddled charm he usually coasts on.
Firth plays Joe, a frayed academic who moves with his two daughters from Chicago to Genova, following the death of his wife (Hope Davis) in a car crash. Initiated into the city's ways by Barbara (Catherine Keener, excellent and underused), a former college mate of Joe's who evidently still carries a torch for him, the family makes tentative steps towards emotional healing — though elder daughter Kelly (Willa Holland) is more drawn by the seductions of boys and the beach.
The action plays out in largely sensory terms, which wouldn't be a problem if there weren't so very little at stake in the undernourished narrative. Though Winterbottom and co-writer Laurence Coriat (who attempted this atmosphere-led approach more successfully in "Wonderland") create sporadic tension with clear visual and thematic references to Nicolas Roeg's "Don't Look Now," any implications of danger are defused as soon as they arise, until the film does not so much conclude as simply stop.
IL DIVO (***1/2)
I already flagged Paolo Sorrentino's blistering political thriller on these pages as one of the highlights of the festival, though "highlights of the year" may be closer to the mark. Not so much a return to the form of his breakthrough film "The Consequences of Love" as a full blossoming of directorial potential, "Il Divo" overcomes the admittedly specialised appeal of its subject — the film is ostensibly a biopic of Giulio Andreaotti, the notorious seven-time prime minister of Italy — with dazzling cinematic flair, recalling such works as "JFK" or "Z" in its audacity and invention.
Via the framework of Andreaotti's speckled career, Sorrentino constructs an expansive lesson in latter-day Italian history and culture, weaving in a multitude of corruption scandals, assassinations and increasingly intimate brushes with the Sicilian mafia. (The film would make a great, stylistically-opposed double bill with "Gomorrah.") The film's initial information overload (vast paragraphs of historical context fly off the screen at the beginning) appears rather daunting, but Sorrentino treats the weighty subject matter with the casual fluidity of the best fiction.
As Andreaotti, Toni Servillo (also seen in "Gomorrah") provides an unnervingly impassive centre to the proceedings, but this is foremost a director's piece, with Sorrentino laying bare an impressive arsenal of filmmaking devices. Wildly stylised compositions are linked by bullet-urgent editing, while innovative sound design and unexpected music cues (veering from Italian folk to The Veils) add real wit and currency.
Amid the breathless pace, however, moments of quiet, unexpected poetry emerge. Andreaotti's relationship with his wife, in particular, is affectingly depicted — a scene where the silently hold hands in front of the TV, enraptured by some ghastly Eurovision-style concert, speaks brilliantly both to their relationship and their larger cultural identity. That such a bold, overwhelming film can feel so intimate in such intervals is but one of its multiple wonders.
BEAUTIFUL LOSERS (***)
A witty, vibrantly presented documentary about the wave of young, street-culture-inspired artists that emerged in the US in the 1990's, including such figures familiar to film audiences as Mike Mills and Harmony Korine, "Beautiful Losers" occasionally falls prey to the preciousness of its subject. However, it stays on track by focusing on the art at hand, and the oddball personalities behind it, rather than reaching for academic significance.
There's not much pulling back after its initial thesis (essentially, that these guys brought art out of the isolated space of the gallery and into the real world), and after thirty minutes or so, the film hasn't a lot left to reveal, but the but it benefits enormously from the discursive, off-the-cuff interview style of most of the participants, most of whom exhibit a healthy streak of dry humour, and a surfeit of beautiful images as the camera casts a loving, lingering gaze over their creations.
ANVIL! THE STORY OF ANVIL (***)
Another documentary about the creative and social difficulties experienced by aspiring artists, Sacha Gervasi's "Anvil! The Story of Anvil" plays rather like the kitchen-sink version of "This is Spinal Tap." Tracing, in exhaustive detail, the present-day, Toronto-based lives of the titular band, a failed 1980's metal outfit with a cult following, the film follows them through their mundane day jobs (lead singer Lips works as a school-lunch deliveryman), a disastrous European tour and, finally, a last-ditch attempt to record a comeback album.
None of this is particularly new territory, but Gervasi deserves credit for the compassion and lack of condescension he shows for a subject that lends itself easily to cruel parody — though the film is obviously not without its touches of absurd humour. The film is also interestingly ambivalent on the question of whether or not the band should call it a day, and its portrait of out-of-time artists unable to shift their goalposts is peculiarly touching. The artists themselves aren't particularly charismatic, which made the film a bit of a slog for this viewer, but metalheads should feel free to bump up the star rating.