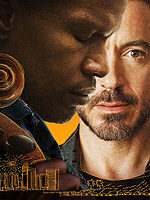 When the news came down last week that the release Paramount's "The Soloist" would be delayed until March 2009, the initial indication was that the film would go on to bow at this year's AFI Fest as scheduled.  Well, in a just-issued press release (which landed after business hours), the festival has announced that the debut has been scrapped.
The release, in part:
In a joint statement from Paramount Pictures, Dreamworks Pictures and Participant Media: "Due to the change in THE SOLOIST release date, we unfortunately had to withdraw from the AFI FEST Film Festival. It was an honor to be invited as the Opening Night film and we are very grateful to the festival for their support and understanding. THE SOLOIST filmmakers, DreamWorks, Universal, Participant and Paramount are very proud of this film and we are excited and committed to bring it to the world in March."

"While we are greatly disappointed that AFI FEST will not have the opportunity to offer the World Premiere of THE SOLOIST, AFI's priority is to honor the artists. We wish to be supportive in any endeavor that will help a film of this quality reach a greater audience," said AFI FEST Artistic Director Rose Kuo.
It's a shame, personally speaking, because I was looking forward to this film and being able to give it a look sooner rather than later, as I'll be covering AFI here next month.  But it might be the wisest move all around for the studio to just remove all aspects from the 2008 landscape.