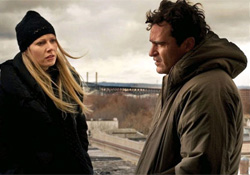 London Film Festival
Bar the odd appearance of a text message or Ecstasy tablet, James Gray's "Two Lovers," a disarmingly modest tale of misdirected passion, could just as easily be set in 1958 as in the present day. This is both one of its charms and one of its failings.
The premise is unfussy and somewhat familiar. Devastated after being left by his fiancee, shy Brooklynite Leonard (Joaquin Phoenix) moves back in with his concerned parents, who set him up with Sandra (Vinessa Shaw), the sweet, plain daughter of family friends. Leonard, however, is more attracted to his neighbor Michelle (Gwyneth Paltrow), a glamorous but deeply troubled young woman, hopelessly entangled with a married man. She initially adopts Leonard as a confidante, but with time, the relationship grows closer and more complicated.
As has been noted by other critics, this is very much early Paddy Chayefsky territory, recalling works like "Marty" and "The Bachelor Party" in its low-fi drama and shabby middle-class milieu. This is still a New York where neighbors converse window-to-window across apartment block courtyards. The old-fashioned structure of this love triangle (boy finds himself caught between the homely good girl and the beautiful bad one) and the gentleness with which the relationships unfold are unusual in today's cinematic landscape, where urban adult romance usually has to come packaged in the tropes of higher-concept romcom.
However, amid the throwback trappings and finely etched sense of melancholy, the film doesn't have all that much to say about contemporary relationships. Modern notions of gender and sexuality never really come into play; Michelle, in particular, seems remarkably limited in her outlook for a 21st century woman. The story is clearly intended to have a timeless quality — heartbreak never goes out of style, after all — but the downside of that is a complete inability to surprise, especially in the final act. (The tartly unhappy "happy ending," however, is beautifully executed.)
What "Two Lovers" does provide is a strong showcase for Phoenix in a rare everyman role. Paltrow's Michelle, meanwhile, is equal parts goofy vulnerability and chilly allure. She hasn't been this alert and unaffected on screen in quite some time.  But above all, the film represents a welcome change of pace for Gray. Despite its occasional obviousness, his storytelling here has more immediacy and conviction. Thanks in no small part to his actors, this is the first James Gray film that could be ascribed the adjective "moving," even if you always know where it's moving to.