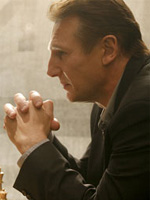 Before I continue my roundup of films from the last few days of the London Film Festival, I received an email asking why I haven't mentioned such major festival titles as "Rachel Getting Married" and "Religulous."
There is little point in me reviewing titles that have already opened in the States (and which Kris has already discussed, in my opinion rather accurately), with so much coverage already available. But to deal briefly with three such films, I enjoyed "Rachel Getting Married" (***) for Jonathan Demme's loose, funky aesthetic, but found the script disappointingly glib beneath the flashy surface wit. "Religulous" (**1/2) is entertaining but not as penetrating as it imagines itself, with Bill Maher claiming to stand for doubt, but showing precious little thereof in his one-sided argument. Meanwhile, the less said (from me, at least) about the fatuous trifle that is "Nick and Norah's Infinite Playlist" (**), the better. Moving on:
TONY MANERO (***)
Chile's official Academy Awards submission is a stark, studied and ultimately rather unsettling black comedy that provides a particularly bleak spin on the familiar character of the fame-crazed non-talent. Set in the late 70's, against the ominous (and fascinating) political backdrop of the Pinochet dictatorship, the film centres on Raul (Alfredo Castro), a dour, dysfunctional middle-aged man whose chief pleasure in life is regular viewings of "Saturday Night Fever" at the local cinema.
Obsessed with the John Travolta character for whom the film is named, Raul begins modelling himself on Manero, going so far as to enter a Manero lookalike contest on national TV, and leading a shabby dance troupe in meticulous pastiches of "Fever" dance numbers at a local bar. However, the startling lack of moral boundaries Raul shows in his quest to inhabit Manero leads him into a spiral of theft, lies and murder.
That pitch may suggest a tone of rollicking high camp, but the mood is dark, the humour bone-dry and the narrative tense and economical. Not everyone will find much reward in spending 90 minutes in the company of such deeply unpleasant people — it's a laudably bold selection for the Oscar — but there's something oddly touching in its depiction of a fearful, long-oppressed culture tentatively coming to grips with outside influences; the lyrics of "You Should Be Dancin'" have never been attributed such social import.
THE OTHER MAN (*1/2)
One of the festival's weakest selections, and certainly the worst film to be afforded the prestige of a gala screening, Richard Eyre's dreary, unfocused melodrama is a staggering letdown after the terse brilliance of his "Notes on a Scandal." Based on a short story by Bernhard Schlink that I can only assume had more substance and credibility than this coffee-table look at grief and infidelity, the film makes the fundamental error of assuming that placing gossamer-thin characters in an attractive variety of chic locations will lend it an air of sophistication by sheer osmosis.
Liam Neeson plays Peter, a wealthy, disengaged software designer married to Lisa (Laura Linney), an equally wealthy, disengaged shoe designer. Several months after losing her, he finds out Claire was having an affair with Ralph (Antonio Banderas), a seemingly wealthy, disengaged businessman, and promptly jets off to Milan to track him down, much to the consternation of his wealthy, disengaged daughter Abigail (Romola Garai), and … oh, I don't care.
If you haven't guessed more or less what happens from that information, you may take some pleasure in watching the film. Eyre attempts to drum up some intrigue over Claire's fate after she abruptly exits the stage 15 minutes in, but the most obvious possibility turns out to be the correct one, which pretty much sums up the film's narrative modus operandi. Add in the fact that Eyre actually uses chess matches as a metaphor for Peter and Ralph's encounters and you have an idea of the level of sophistication we're working at here.
AWAYDAYS (***1/2)
An infinitely superior homegrown production was Pat Holden's "Awaydays," a terrific rites of passage film based on Kevin Sampson's cult novel about kids escaping the miseries of Thatcher-era Britain through the fleeting thrill of football hooliganism. It's one of many similarly themed and located works, but is elevated from the pack by a subtle exploration of class, and an immaculately visualised sense of time and place.
Film tells the story of Carty (Nicky Bell), an awkward middle-class teenager growing up on the industrial wasteland of the Wirral, who plays down his solid upbringing and intelligence to join ruling gang The Pack, a savage group who live for the beer and beatings of Saturday afternoons. Chief among the group's attractions of the group for Carty is the charismatic Elvis (Liam Boyle, a standout), a budding New Romantic increasingly alienated by the routine of The Pack, and looking to broaden his social (and sexual) horizons, toying with his hold over Carty in the process.
Playing a little like a Shane Meadows narrative filmed through the dreamy, dusk-hued gaze of Terence Davies, "Awaydays" avoids tipping over into miserablist-chic by refusing to soften the visceral jolts of violence that punctuate the action. Holden and Sampson (who adapted the novel himself) don't quite match the density of character detail that made Meadows' exquisite "This Is England" the genre's likely future benchmark, but, capped by its rich, shadow-riven lensing and dazzling Joy Division-studded soundtrack, "Awaydays" offers more than enough seductions of its own.
SEAMSTRESSES (**1/2)
An artless but affecting Balkan melodrama chronicling the divergent fates of three best friends who move from their rural home village to Sofia together to make new lives for themselves, "Seamstresses" is the kind of pleasant, middlebrow arthouse fare that could have reasonable crossover success if cleverly distributed. (Indeed, I'm surprised not to see it submitted as Bulgaria's entry for the Academy Award.)
Strongly reminiscent in form and tone of surprise 1980 Oscar-winner "Moscow Doesn't Believe in Tears," the film breaks little storytelling ground, and telegraphs its major plot points all too heavily, but it gets by on its sincerity, lack of pretension and occasional, wry flashes of humour — anchored by an excellent performance from saucer-eyed ingenue Elen Koleva as the least glamorous and most naïve of the girls, struggling to hold the trio in place. Film also benefits from a lovely sense of locale, tangibly conveying the hostility of an Eastern European winter, but the obtrusive, 80's-style score is a major debit.