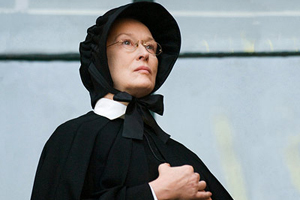 Every Oscar season is about managing expectations. Studios, of course, want to keep the murmurs to a minimum whether they have the goods or not because the peril of peaking too early is just as bad as the sting of negative word-of-mouth. Similarly, being "the one to beat" sets a film up to rise to an unfair occasion rather than coming to the table fresh.
Holding back is a tradition and is even one of two philosophies on the awards season sell. There are those who'll tell you that, if you have a great movie, you should show it and show it proudly. The other side of the equation believes in the manipulation of when and where opinion will trickle out. It seems every year a train wreck of sorts occurs, and this year, that train wreck was obviously "Frost/Nixon."
After landing in London to some mediocre reviews (no one at this site, by the way, ever said the film was bombing with critics across the board), should Universal Pictures have been particularly surprised? Ron Howard, America's white-bread filmmaking standard exhibiting to the chilly British disposition? It wasn't going to be a rapturous reception, and with the film having been completed for months on end, holding back until the London festival to give anyone a sanctioned peek raised eyebrows long ago.

Now, the studio is in a position of drawing attention to the positive assessments, yearning for coverage of this four star review or that.  But the sting of last week's "'Frost/Nixon' gets 'frosty' reviews" headlines is still there, while American critics are feeling slighted for not getting a fair shake.
On the other hand there is Focus Features' management of "Milk."  We've had the film in the #1 position of our Best Picture chart for a number of weeks now because it was in the rare position of lacking any negative buzz.  Rather than teasing with footage (which Paramount is probably kicking themselves for doing in Telluride with "The Curious Case of Benjamin Button") or offering extremely early looks at the film to select press, Focus has waited patiently for the movie to be finished.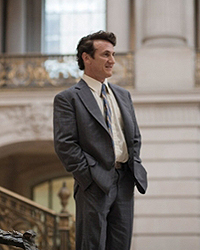 The film finally started screening last week for long-lead and trade personnel, and lucky for the studio, the mixed whispers (I'm hearing "glossy" and "greatest hits") will only have a week to dent the armor before the majority of critics and press see the film on October 28, either at the San Francisco premiere or at one of two screenings lined up in Los Angeles on that date.  For comparison, "Frost/Nixon," will be unveiled for American critics on the same day, a full two weeks after the headache of London has had the chance to eat away at expectations.  Or maybe it'll just go away.  You never can tell.
Miramax Films has been holding back on "Doubt" considerably, part of the old-school mentality that you want to play up your hand like it's a big secret before finally dropping it on the unsuspecting masses.  The same can't be said for "Revolutionary Road," which has honestly been in the editing room waiting on Sam Mendes to come back to the film and finish it while he's been multi-tasking other projects.  Ditto "Australia," which I even heard could be pushed to 2009 last week.
Going back to "Benjamin Button," the decision to show a number of clips to Telluride audiences in September obviously proved to be a hiccup for Paramount.  In the studio's defense, no one could have anticipated the amount of bloggers that showed up at the festival this year, eager to file immediately on the fractured pieces of a complicated narrative.
Their decision to file can and should be defended, even if their judgment while filing is certainly in question.  At the same time, offering up pieces of a film is just asking for backwards interpretation (no pun intended) and a film as complex as this should be protected a little more.  But it doesn't matter at this stage, as the David Fincher film is increasingly becoming "the one," much to the delight of studios who'd rather not be locked into a frontrunner status.
Trust me, we don't HAVE to see something.
And of course, the other side of "holding back" is waiting in the wings yet again: Clint Eastwood.  Everyone knows it's coming.  Warner Bros. isn't playing peek-a-boo, they just don't have a finished film to show.  The situation with "Gran Torino" is different than "Million Dollar Baby" because it won't be an eleventh hour shock.  It is closer to "Letters from Iwo Jima," when critics were waiting for the director to redeem himself after failing to deliver a masterpiece (how dare he!) earlier in the year.  Though I do not share the cold "Changeling" sentiments of so many of my colleagues.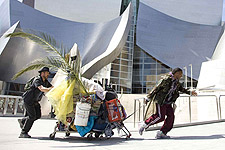 When you get right down to it, the point of any decision in this business is always going to be just that: business.  "The Soloist," for instance, did not move to March as any "fuck you" from Sumner Reedstone to DreamWorks SKG, it was simply a shrewd money decision.  The studio saves a lot of Oscar campaign dollars and dodges the possibility that the film gets lost in the awards film shuffle by moving out of the way and into greener pastures.  Better to be a big fish in a little pond than vice versa.
Similarly (though not in all cases), if a film is being launched here or there first, or if it is kept under wraps or screened relentlessly, it's all in service of what the studio thinks is best for the film monetarily.  And awards perception has a direct effect on box office in some way, small or large, depending on the philosophy.  But year after year, it seems that studios get lost in this haze of strategic thinking, while others (Fox Serchlight leaps to mind) always seem to just swim right along, immune.
Whatever the case, the answers will come.  They always do.  And in some instances, the shock of disapproval might have been off-set by slow revelation rather than the quick rip of the band-aid, while the eruption of mass acclaim might have been better managed in doses rather than all at once.  The balance is impossible.  And make no mistake, I know I couldn't do it if I were in these people's shoes.  In the meantime, we wait for the rest of the season to reveal itself.  By the middle of November, the question marks will disappear and the task of guessing the Academy's taste this year will be on the docket.
Then it's a whole other headache.  Until then, all we have are our best guesses…

Main Category Charts
Technical Category Charts
The Contenders
Oscar Prediction Archives