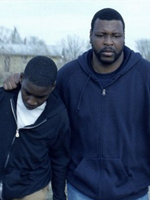 The Gotham Independent Film Award nominees have been announced (note the change in moniker this year), and Lance Hammer's Mississippi drama "Ballast" leads the pack with four nominations.  Six films received two nominations apiece, including Charlie Kaufman's "Synecdoche, New York," Jonathan Demme's "Rachel Getting Married" and Woody Allen's "Vicky Cristina Barcelona."
One film that might have popped up had it been eligible was Gus Van Sant's "Milk," but the film was not ready to screen for IFP in time.
These are the first set of film awards nominations of the 2008 season, kicking off the campaigns for more than a few potential Oscar contenders, including actresses Rosemarie DeWitt, Melissa Leo and Rebecca Hall, each of them nominated in the Breakthrough Actor category.  The documentary race also includes a number of Oscar hopefuls, "Man on Wire," "Trouble the Water" and "Encounters at the End of the World" among them.
The frontrunner at this point is probably the bread-winner of the nomiantions process: "Ballast."  But I have a feeling "The Visitor" could spark enough support to surprise in the end.  Also nominated for Best Feature is Darren Aronofsky's "The Wrestler," the film's only mention.
The awards will be held on Tuesday Decmber 2 at New York's Cipriani Wall Street.
(Full list of nominees after the jump.)
Best Feature
"Ballast"
"Frozen River"
"Synecdoche, New York"
"The Visitor"
"The Wrestler"
Best Documentary
"Chris & Don: A Love Story"
"Encounters at the End of the World"
"Man on Wire"
"Roman Polanski: Wanted and Desired"
"Trouble the Water"
Best Ensemble Performance
"Ballast"
"Rachel Getting Married"
"Synecdoche, New York"
"Vicky Cristina Barcelona"
"The Visitor"
Breakthrough Director
Antonio Campos, "Aftershool"
Dennis Dortch, "A Good Day to be Black & Sexy"
Lance Hammer, "Ballast"
Barry Jenkins, "Medicine for Melancholy"
Alex Rivera, "Sleep Dealer"
Breakthrough Actor
Pedro Castaeda, "August Evening"
Rosemarie DeWitt, "Rachel Getting Married"
Rebecca Hall, "Vicky Cristina Barcelona"
Melissa Leo, "Frozen River"
Alejandro Polanco, "Chop Shop"
Micheah J. Smith Jr., "Ballast"
Best Film Not Playing in a Theater Near You
"Afterschool"
"Meadowlark"
"The New Year Parade"
"Sita Sings the Blues"
"Wellness"