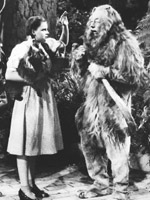 On the weekend here I thought I'd offer a vast list of movie moments and particulars that have forged the guy who hammers out these columns week to week.  Lists such as these are bound to differ from person to person, but I'm sure we all share plenty of them as well.
1. The Wicked Witch of the West in "The Wizard of Oz"
At six-years-old that witch was terrifying as my family watched this in black and white for the first time (that I recall) — nightmares ensued.
2. John Wayne in "True Grit"
With a twirl of the rifle he marches boldly ahead to do battle outnumbered four to one by men half his age. Putting the reins between his teeth, he draws a weapon in each hand and charges…true grit indeed.
3. That searing ending of "Planet of the Apes"
I still get shivers watching Heston find Lady Liberty up to her armpit in the sand, his world gone forever.
4. The parting of the Red Sea in "The Ten Commandments"
THE moment that forever addicted me to movies. And I expected so little of the film. The sheer scope and spectacle took my breath away and when Moses parted the water? Hooked like a junkie to his junk1
5. "The Godfather"
In its entirety.  Such beauty and brilliance…family…murder…wow.
6. Feeding on the work of Brando
After seeing "The Godfather" I sought out everything I could fine on him and watched many a Brando film at two in the morning.
7. A double bill of "American Graffiti" and "Cabaret"
That bittersweet ending to "Graffiti" gave a glimpse into the future that said life will get in the way of youth, and "Cabaret" was the darkest musical I had ever seen, brilliantly so, and remains as much to this day…utterly ageless.
8. Seeing Vivien Leigh in "Gone with the Wind"
I saw this at a re-release (in the days before VCRs) and was stunned by Leigh's performance — never had I thought (as a young male) that a woman could so entirely dominate a film with such a mesmerizing performance.
9. "The Godfather Part II"
Again, in its entirety.  I knew then at age 15 I was watching something miraculous — and today it is still the greatest film I have ever seen.
10. "Jaws"
I saw it 22 times the summer of '75, no kidding, and to this day I never tire of it.  Steven Spielberg proved himself a director for the ages with and spent much of his career trying to prove himself.  Robert Shaw was Oscar-worthy — a masterpiece.
11. Nicholson in "One Flew Over the Cuckoo's Nest"
Acting at its greatest, and the emergence of a brilliant artist beloved by all.
12. De Niro, Scorsese and "Taxi Driver"
On a hot summer's day I watched in rapt fascination the Travis Bickle's descent into madness, and then watched as the film became legend. De Niro arrived with this one, as did Scorsese and a new level of screen violence.
13. The brilliance of "All the President's Men"
As a Canadian I knew about Watergate, though the details seemed too enormous to sift through. This film made sense of the entire scandal with perfect writing, excellent direction and fine acting. Alan J. Pakula made a detective story with great suspense — a great feat when the world knows the outcome.
14. Discovering John Ford and "The Searchers"
There was a John Ford festival on TV — I watched them all, but was blown away by "The Searchers."  I had never before seen Wayne so ruthless, so mad, so astounding on the big screen — the greatest western and Duke's best work.
15. The end of "Close Encounters of the Third Kind"
To quote a woman I overheard, "it was like seeing God." Breathtaking.  Left me in awe.
16. "Citizen Kane"
I saw it for the first time at a library screening, an old 16mm print — even then I knew it was amazing and over the years have come to love the film.  I do not share the belief it is the best American film ever made, but it certainly was the most innovative.
17. "Superman"
I believed a man could fly.  He caught the girl, caught the chopper, I believed.
18. "Apocalypse Now"
Mind blowing — leaving the theater I knew I had been changed in some way.  Coppola had created a work of art that challenged his audiences.  Surrealistic, haunting and powerful, I have never forgotten that first time.  And Duvall, my God, is he terrifying? Like a hallucination gone bad.
19. Robert De Niro in "Raging Bull"
As a young acting student I saw this with Kevin McDonald, in years to come one of the "Kids in the Hall," and we left exhausted by De Niro's performance.  We knew then we were never going to be actors like that — simply on a different plane than us.
20. Discovering Jane Fonda
I loved her…plain and simple. Intelligent and sexy she was my fantasy girl for the 1970s and 1980s.  It certainly helped that she was among the greatest living actors: "Klute," "They Shoot Horses Don't They?," "Julia" and "Coming Home" are superb.
21. "Reds"
I left humming the Internationale and believing — no, knowing — that Warren Beatty was a genius.
22. Studying "The Searchers"
Frame by frame in college we studied this soaring work of art, which left me even more astounded by John Ford's work.
23. Realizing Charlie Chaplin's genius in college: "City Lights"
The same, a frame by frame study of this and his other great films left me stunned by his genius and ashamed I did not know more about him (which I remedied). That final beautiful, heart-stopping smile at the end, such power.
24. "E.T.: The Extra-Terrestrial"
I wept then when they said goodbye and I weep now. Hard to believe the leading man is special effect.
25. "Sophie's Choice" and Meryl Streep
I knew leaving the theater that I had just seen the greatest female performance ever given and know it still 26 years later.
26. Dustin Hoffman astounding me in "Tootsie"
The greatest American comedy ever made and the finest film about the art and craft of acting.  Hoffman was never better and there is a moment when he ceases to be a man and actually becomes Dorothy…unbelievable.
27. "Platoon"
With this film Vietnam stopped being a comic book war fought by Sylvester Stallone and Chuck Norris and became grounded in realism…mercifully.
28. "Empire of the Sun"
Jim closes those now aged and tired eyes at the film's conclusion, reunited with his parents, and I wept openly in the theater as did the other hardened critics — Spielberg's most under valued masterpiece.
29. "The Last Temptation of Christ"
For the first time on film, Christ was a man, not a thing, not a being, not an "it," but a flesh and blood man afraid of what lies ahead for him. For a non-religious man this was the most extraordinary religious experience I had ever had.
30. "JFK"
The scene between Donald Sutherland and Kevin Costner electrifies in its summation. Stunning filmmaking.
31. "Unforgiven"
Clint Eastwood arrives as a major American director with this masterful western as dark as the soul of William Munney.
32. "Schindler's List"
What is there to say? I had always believed Steven Spielberg to be a genius, and finally the academic critics agreed.
33. Quentin Tarantino and "Pulp Fiction"
The jauntiest, wildest, most profane and violent two and a half hours I had had in years of movie-going — it was as though Tarantino had re-invented the art form. Like listening to a great rock and roll song with people you love.
34. "The Sweet Hereafter"
My daughter's first day of school, she waves through the bus window, I fly into Toronto to the film fest to see children doing the same, the bus veers off the road and onto a lake, where it sits as the ice breaks underneath and the children, all but one, perish.  I could not speak when the film ended and I had to call home to hear her voice. Grief has never been so superbly portrayed.
35. Robert Duvall in "The Apostle"
Duvall's volcanic performance was thrilling to see.  A great actor at the peak of his talents and knowing it.
36. "Saving Private Ryan" at dawn
At 8:00 in the morning the press screening started and at 11:00 our lives had forever been altered.  It is the greatest war film ever made. There was no doubt this one would win the Oscar…and then…
37. "For Frodo" and a charge
"The Lord of the Rings: The Return of the King" — swept me away.  I was there from the first right through to the final and would have sat through more.  When 2004 began the great disappointment was that there would not be another installment. Thrilling, moving, heart breaking, powerful and astounding.
38. "The Passion of the Christ"
All that punishment and he just keeps going…that's faith. People forget the film is not about his life, but his death, and in his death his life force is celebrated. Mel Gibson's direction is sublime.
39. "Brokeback Mountain"
Two people, who happen to be men, meet and fall in love, complicating their lives forever. Not a "gay western," just a heartfelt love story about two clear soul mates. Ledger was never better than he was here.
40. Daniel Day-Lewis in "There Will Be Blood"
The greatest performance I have ever seen…period.
Have your say.  What are some defining movie moments that have shaped you as a movie-goer?