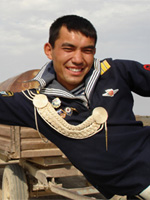 Continuing the discussion of yesterday's London Film Festival offerings:
Spearheaded by such titles as "The Class" and "Gomorrah," the big story of world cinema this year appears to be the fusion of a documentary aesthetic with fictional storytelling, in many cases employing semi-improvised scripts and non-professional actors to create the spontaneous, slightly unnerving feel of watching life being lived. The latest in this cinematic line is "Tulpan" (***), a spare, sure-footed and thoroughly winning first foray into fiction film from documentarian Sergei Dvortsevoy.
Since picking up the Un Certain Regard award at Cannes, the film has built up healthy buzz on the festival circuit, and was recently named Kazakhstan's entry in the Best Foreign Language Film Oscar race. (Kazakhstan, incidentally, is seeking their second consecutive nomination in the category after the surprise success of 2007's "Mongol" — for all the "Borat" associations, this country is no joke.)
Part folk tale, part National Geographic-style environmental study, the film unfolds on the barren, windswept steppes of south Kazakhstan, a milieu familiar from 2003's documentary "The Story of the Weeping Camel." "Tulpan" actually resembles that film in more ways than one, employing a similarly  leisurely, observational shooting style with a keen eye for domestic ritual.
The story, such as it is, concerns a socially awkward young man, Asa, who returns from naval service to settle on the deserted steppe with his sister and her sheep-herder husband. Determined to find a wife, he sets his sights on marrying Tulpan, the daughter of neighbouring herders, who remains an unseen presence in the film. However, as he fails to win her over, while his herding abilities prove inadequate, he comes to re-evaluate his goals.
This forms the slim framework for a wealth of social and ethnic detail, tinged throughout with wry, bittersweet humour and surreal touches. (An endearing running gag has Asa's friend Boni in thrall to Boney M's "Rivers of Babylon," the only song on his car stereo.) A scene where Asa tries to allay Tulpan's alleged concerns over the size of his ears, using a Charles and Di poster from the 1980's, is a comic high point.
As a study of landscape and rural life, meanwhile, the film registers strongly, with an incredible live lamb-birthing scene drawing gasps of wonder from the audience I was watching with. Jola Dyleska's breathtaking cinematography captures the severe beauty of the steppes in a series of striking, dust-veiled tableaux. I'm not sure the film's glacial pacing and sparse narrative will be to the Academy's taste, but it's a distinctive, beguiling work.
I've already expressed my enthusiasm for Christophe Honore's latest, "La Belle Personne" (***1/2), an elegant, loving portrait of tangled teen relationships that dares to treat teenagers as intelligent, interesting human beings. Loosely taking his inspiration from Madame de Lafayette's oft-filmed literary staple "The Princess of Cleves," Honore cleverly blurs the line between adult and adolescent by making his protagonist a young teacher, Nemours (Honore regular Louis Garrel), who is awkwardly straddling the divide himself.
Nemours' over-involvement with a chronically insecure student, Junie (Lea Seydoux, a haunting presence), opens up a world of complex social and sexual politics that most filmmakers wouldn't dare approach without invoking hysterical moral panic. The absence of judgmentalism here is laudable, as is the film's careful distinction between teenage romance and teenage sex — the result, as I've said before, is one of the most purely romantic teen films I've ever seen.
Beautifully shot in minty tones and making evocative use of Paris at its most atypically wintry, Honore also continues the strong vein of musical storytelling in his films, with the songs of Nick Drake setting the tone throughout as the story winds to its melancholic conclusion. The cast is uniformly strong, though part of me wishes they didn't all look like they've walked off a Dior photo shoot — a minor quibble in a wonderfully literate spin on a well-worn genre.
Ensuring my French literature degree got quite a workout yesterday, the final film was French actress Marion Laine's directorial debut "A Simple Heart" (**), an disappointingly superficial adaptation of Gustave Flaubert's seminal short story. Abandoned by her lover, Felicite, a borderline-autistic servant girl, devotes her life entirely to the family she works for, only to face further rejection and tragedy over the years — before finally channeling all her love into a relationship with her pet parrot.
It's one of the most beautiful and, yes, simple stories in all literature, but Laine hasn't really a clue how to interpret it on screen, opting for bathetic emotional outpourings over Flaubert's delicate character reading. As Felicite, Sandrine Bonnaire throws herself into the role with fierce abandon, but struggles to locate the character's true vulnerability beneath the surface angst. The same goes for the film itself.