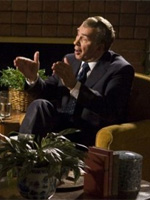 Busy week, this. Here is how it went down:
• In the biggest story of the week, the pool of contenders narrowed as "The Road" got bumped to 2009…
• … followed, in quick succession, by "The Soloist."
• The London Film Festival kicked off with "Frost/Nixon," which got off to a middling critical start. We were underwhelmed.
• More London coverage here, here and here.
• As Tech Support ran down the Visual Effects contenders, we got an angle on the tantalising FX for "The Curious Case of Benjamin Button."
• Heath Ledger's buzz remains as solid as ever — word went round that a lead campaign was in the works, but they're staying put in supporting. Good move.
• More (and still more) foreign film contenders bring the field to a record tally of 67.
• We responded to the bad "Changeling" buzz with a kinder view, but like everyone else, are looking ahead to "Gran Torino."
• And finally, we solve your sartorial dilemmas in time for Halloween.