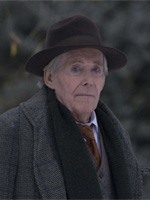 Long day today, with some complicated scheduling: after a press screening of Atom Egoyan's "Adoration" turned out to be full, I was presented with the choice of catching up with either "Miracle at St. Anna" or Kazakhstani Oscar submission "Tulpan." I opted for the latter — well, it's got more of a chance of getting an Oscar nomination than Spike Lee's film, right?
Anyway, as I have six films to discuss from today, for the sake of economy (and my own sleep requirements) I'll look at three of them now, and deal with the rest early tomorrow. We'll start with the English-language contingent.
I missed tonight's main attraction, Richard Eyre's tepidly received "The Other Man." However, Eyre's film was preceded by another UK-set Toronto title, "Dean Spanley" (**), a sophomore effort from Kiwi helmer Toa Fraser, whose debut "No. 2" was, oddly, rather more ambitious than this amiable but over-extended skit.
The ornate animated credit sequence and jaunty score announce upfront that the film demands high whimsy-tolerance levels from the audience. In the interest of full disclosure, mine are pretty low. Still, that doesn't distract from the fact that the narrative is barely feature-film material. Set in London at the turn of the 20th century, the film focuses on the brittle relationship between mild-mannered gentleman Fisk (Jeremy Northam) and his batty, emotionally distant father (Peter O'Toole). Idly attending a lecture on reincarnation one afternoon, they encounter the enigmatic Dean Spanley (Sam Neill), whose own account of his imagined past life as a dog strikes an unexpected emotional chord with both father and son.
A great deal of care and craft has gone into this handsome production, but it never overcomes the perilous slightness of that premise, the outlandishness of which might be more engaging in a more heightened, elaborate narrative. (Dare I risk terminal obviousness by saying Tim Burton could have made something of this?) As it stands, the film falls awkwardly between two stools; its gentle fantasy and unabashed sentimentalism could make for a lovely family film, but the storytelling is too oblique, and the characters too dry, to please a wide audience.
Singlehandedly propping up "Dean Spanley" is O'Toole, who is in imperiously eccentric form here, reeling off the film's smartest lines with effortlessly elegant hauteur. It's not unlike a replay of his Oscar-nominated turn in "The Ruling Class" with all the sharp edges sanded away, but he's genuinely moving in the final act, making emotional sense out of a redemptive climax that doesn't really hold up on paper. Oscar attention would not be entirely unexpected — or unwarranted. Though this is a mild improvement on the execrable "Venus," O'Toole really deserves a more substantial showcase for his still-intact gifts.
I've already recommended independent Brit-com "1234" (***), a feature debut for writer-director Giles Borg that, to go on conversations with other critics, seems to be one of the most universally liked films of the festival, even if it's hard to make any major claims for it.
Unpretentious, well-observed and genuinely, joyously sweet-natured, the film is centred on Stevie (Ian Bonar), a geeky twentysomething from London's artist-infested Hackney borough who just happens to head up a pretty nifty guitar band ("The Yummy Fur meets The Velvet Underground"), while holding down a dire desk job with his best friend and drummer Neil. Things look up when he recruits more seasoned guitarist Billy (Kieran Bew), who in turn brings along his friend Emily (Lyndsey Marshal) — a kooky bassist whose real passion is for making conceptual art out of human hair. As the band begins a rocky climb up the sticky-floored pub circuit, Stevie falls hard for Emily, and all the requisite tensions arise.
Written and performed with real insight into the struggles of making a creative living, without ever, as the characters would say, getting "wanky" about it, the film also paints its relationships in delicate strokes — the latent love story, in particular, is refreshingly open-ended. The cast is fresh and winning, playing off each other with warmth and ease; Marshal, an open, intelligent screen presence, is one to watch.
The film also benefits from a strong sense of place that explores East London beyond stereotypical council-house squalor; and it goes without saying that the music is terrific. Occasional glibness and over-quippy dialogue don't detract too much from "1234"'s sincere, summery spirit — amid the festival's bleaker British fare, this is a ray of (rare) London sunshine.
Finally, Ramin Bahrani's minor-key character study "Goodbye Solo" (**1/2), a FIPRESCI prize-winner at Venice, has numerous affecting moments, but is tainted by some heavy-handed writing that spells out its characters' emotions in rather too prosaic a fashion.
Beautifully shot Bahrani's homeground of North Carolina, the film charts the tentative friendship between two very different social outsiders: Solo (Souleymane Sy Savane), a Senegalese immigrant taxi driver struggling to make something of his life, and William (Red West), an elderly curmudgeon who appears to have given up on life altogether. Solo's insistent attempts at forming a friendship are initially rebuffed by William, until he realizes that Solo is the only person who can help grant his final wish.
This slender narrative is impressively carried by the two actors. 71-year-old West, a former movie stuntman and Elvis bodyguard, distils a lifetime of experience into his first lead role, to silently heartbreaking effect; novice Savane struggles occasionally to riff off an evidently bare-bones script, but it his guileless charisma that colours the whole film.
I couldn't help thinking "Goodbye Solo" might have been more powerful as a short — in feature format, the characters have too narrow an arc to sustain tension and engagement, pleasant as they are to spend time with. The story inevitably recalls Abbas Kiarostami's "A Taste of Cherry," and this sketchier work can only pale in comparison, but a tightly disciplined climax, free of the expected moralising, suggests that, following the equally promising "Chop Shop" and "Man Push Cart," Bahrani has a great film in him yet.
Tomorrow: more of today's short takes, including "Tulpan" and "La Belle Personne," while Saturday's fare includes Palme d'Or champ "The Class," LA art-doc "Beautiful Losers" and Michelle Williams-starrer "Incendiary."