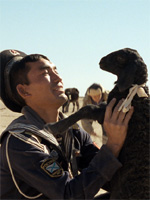 Since my last update on the Best Foreign Language Film race, a further ten latecomers have entered films, bringing the number of entries to a record 67. (The full, updated list is here.)
The new names in the derby are Afghanistan ("Opium War"), Albania ("The Sorrow of Mrs Schneider"), Azerbaijan ("Fortress"), Egypt ("The Island"), Georgia ("Mediator"), Kazakhstan ("Tulpan"), Latvia ("Defenders of Riga"), Lebanon ("Under the Bombs"), Ukraine ("The Illusion of Fear") and, interestingly enough, the United Kingdom ("Hope Eternal").
The last-named title proclaims itself the first ever Welsh-African production, and features dialogue in seven languages — including Swahili and Afrikaans. Beyond that, I haven't a clue what it is. Incidentally, I saw the Kazakhstani entry "Tulpan" this afternoon, and will review it in my next London Film Festival roundup.
Reflecting on the race in his Notes on a Season column, Pete Hammond declares the race "wide open," but I'm not sure I agree. After all, the new voting system — whereby the foreign film committee votes on six of the shortlisted titles, after which a smaller executive will add a further three — is specifically designed to ensure that the most acclaimed (and most expected) films make the cut.
Under this system, you can bet a film like "4 Months, 3 Weeks and 2 Days" would have made the shortlist last year. Ditto "City of God" in 2002. Consequently, it seems safe to say that even if the general committee snubs high-profile critics' favourites like "Gomorrah" or "Waltz With Bashir," the executive committee will get them on the shortlist.
You could argue that this makes the race less "open" than in previous years, but I'm not complaining — sometimes the obvious choices are the best ones. (Of course, when picking the final five, the voters are still free to screw over any films they choose to.)
Meanwhile, Hammond finds that some committee members feel a bit miffed by the new system:
"We are basically being demoted," one longtime volunteer told us this week. "They don't trust our judgment, so they are making us feel like second-class citizens. It's unfair when you consider all the time we put in for three months a year. But if you rock the boat, you risk getting kicked off, and I enjoy seeing these films from around the world."
Unfair? As unfair as ignoring some of the year's best films because a couple of blue-hair voters can't swallow violence, animation or themes like abortion? Damn right they don't trust your judgment. Neither do we. Here's hoping this year's nominees are a step toward regaining that trust.