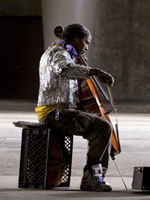 Well, I made my calls (since that Nikki is a kook), and yep, it looks like "The Soloist" is being pushed to March of 2009.  Opening the film there is "more fiscally sound" I'm told, but that's to be expected.  With "The Road" looking to move to 2009 as well, this has become the best week of news for Brad Pitt, Leonardo DiCaprio, Clint Eastwood, Josh Brolin and Benicio Del Toro, all fringe Best Actor hopefuls that have a fighting chance now that Robert Downey Jr. and Viggo Mortensen have exited stage left.
It's probably for the best on one hand, since Downey's shooting schedule for "Sherlock Holmes" in London was going to interfere with the junket dates for "The Soloist" and he wasn't expected to be here.  Kind of hard to launch a Best Actor campaign if your lead actor can't participate in the major press exercises.  The possibility is still floating for an Oscar qualifying run, but it doesn't look good.
Also reported, "Defiance" will get a shift into late December for an Oscar qualifying run with a wide bow held for January 2009.  Makes sense.  Lots of Christmas drama to contend with this year: Pitt, Will Smith, Keanu Reeves.
Both films will still play the AFI Fest next month.
Boy…the charts sure are gonna get a work-over on Monday.