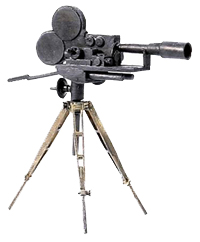 While cinematographers and film music composers may sometimes find themselves featured in the media more than many of their crafts artist colleagues, the one "tech" discipline awarded by the Academy that often brings people into the movie theaters on its own is visual effects.
The category is whittled down to three nominees after the year's content is narrowed to a list of seven "bake-off" contenders. The bake-off finalists consistently give insight into the branch's thinking even if missing a prediction after their announcement isn't unheard of. The makeup branch has a similar system.
An expensive art form, which often involves hundreds of crew members working behind the scenes, the visual effects arena seems to be finding new ways to "wow" audiences every year. The Academy's branch has tended in recent years to reward computer-generated imagery (CGI) as opposed to classic practical effects actually captured on camera. This category is also usually the home of blockbusters and moneymakers. "The Golden Compass," last year's surprising winner, was a very rare nominee considering its disappointing box office. For it to win was even rarer.
I suspect that Jon Favreau's "Iron Man" is leading the way this year. Immensely critically respected and with fantastic box office to back it up, I'd be quite surprised and taken aback if it failed to get a nomination here. The creation of the title character alone put it in contention. This is not to mention Jeff Bridges's transformation and the war zone explosions.
"Indiana Jones and the Kingdom of the Crystal Skull" was filled with CGI (to a fault as far as I'm concerned) and was certainly a money-making spectacle. I'd say Steven Spielberg's latest effort is firmly in the running due to quantity and profile of the effects if nothing else, though I can't help but wonder if overall distaste for the film might hurt its chances.
The third huge blockbuster of the summer, "The Dark Knight," will likely have difficulty scoring in this category. While the effects work was impressive and very effective in the film, it lacked the showiness often seen by nominees, and the effects were practical, a staple of Christopher Nolan's vision, as opposed to showy CGI. That said, the film is so respected that I would not be shocked if it managed to score anyways.
"The Chronicles of Narnia: Prince Caspian" will try to join its predecessor as a nominee this year. The quality and nature of the work is similar to films which often find a home here. However, its considerably poorer reviews and box office compared to "The Lion, the Witch and the Wardrobe," not to mention that it lacks the novelty of the first installment of the series, will decrease its chances considerably in my opinion.
I certainly would have said Will Smith's "Hancock" had odds on its side before release. The atypical superhero movie not only had its superstar but also visual effects that were both computer-heavy and integral to its plot. I've become skeptical, however, after its somewhat disappointing reception. I'd say its chances depend on the reception of films we've yet to see.
Guillermo Del Toro's "Hellboy II: The Golden Army" was visually amazing. Del Toro knows how to integrate visual effects into a film tastefully and beautifully, while remembering the purpose is to serve the story. That said, I don't know how close this film will come to Oscar given its predecessor's shutout.
Looking ahead to films we've yet to see, "The Curious Case of Benjamin Button" could be a visual masterpiece. In addition to work on Brad Pitt's youthing (as opposed to aging) lead character, I suspect the film will also have high profile visual effects in its war and sea scenes. If the film becomes a major Oscar player – which it might – I could easily see this nomination happening.
Catherine Hardwicke's "Twilight" has many a teenager excited. Visual effects will be essential to its vision, however. I think we all can envision the film doing phenomenally well at the box office, which is always a noted bonus. So even though its plot is normally the sort which the Academy avoids, I think a nod here is a distinct possibility.
"The Day the Earth Stood Still" could end up being a tremendously unnecessary remake. Or it could be a massive Christmas hit. It will necessarily have a lot of CGI-driven visual effects as well. If it is a success and the effects work delivers, a nomination here could definitely be in the cards, regardless of quality.
"Quantum of Solace" will try to continue the successful reboot of the James Bond franchise with Daniel Craig. However, I'm personally doubtful that the series will score here, where it has failed to find a home for so long.
Lastly, I'd like to discuss "WALL-E." That "Ratatouille" made the bake-off last year shows that the branch is willing to consider animated films in this category and the visuals on Andrew Stanton's film were nothing short of breathtaking. If the committee is willing to look for a novel choice, I think this film's chances are considerable.
Finally, I'd like to note that due to circumstances I cannot understand, I do not seem to be able to write responses to posts! If you have a specific concern, e-mail me while I try to figure this bizarre computer problem.
See you next week when we dive into Best Art Direction!