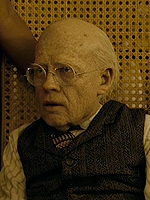 Fresh on the heels of Gerard's visual effects Tech Support column this morning, I got an email from an industry friend who keeps his eye on the tech races and, indeed, the Oscar races in general.  It seems "The Curious Case of Benjamin Button," which was always going to be a delicate effects balance, is striking the right chord with those who ought to know.
Here's what our source had to say:
Don Shay, who founded and is EIC of Cinefex magazine, which is more or less the gold standard for folks in the visual effects industry, has already seen "Benjamin Button" and told a mutual friend that it's as big a leap forward in visual effects as "Jurassic Park" was. Coming from him, that's a big deal.

Obviously, the odds for it go even higher if the picture ends up being a sweeper, which I'm betting on as I know two other guys who have seen it in rough shape and both of them – straight shooters and neither of them particularly emotional – were crying at the end.

I say if you watch that second trailer, and you get all of that sweep and Americana AND you're crying at the end, it's going to be a major force.
When I first talked to Eric Roth about "Button" almost two years ago, he told me director David Fincher was keeping his recipe for the film's effects close to the vest.  A wise move, considering the finished product could have become lost in its own good intentions.
But that doesn't seem to be the case.  With a Los Angeles Times write-up on makeup wizard Greg Cannom still to come and an Industrial Light & Magic feature just waiting to happen, I'd say the below-the-line achievements on the film might be inching it toward consideration as the tech giant of the year.