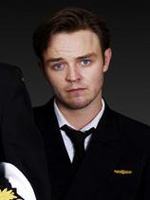 So today was the first full day of London Film Festival action, after last night's premiere of "Frost/Nixon" kicked off proceedings. With a raft of fair-to-respectable reviews (as you know, I was firmly in the "meh" camp), Howard's film didn't land with quite the bang I'm sure the festival organisers were hoping for, but it was still a notable coup — and they have the comfort of more tried-and-tested titles to come.
Today's fare was more low-profile, with the biggest event being the UK premiere of Spike Lee's "Miracle at St. Anna," which arrives at the festival as damaged goods. Perhaps tellingly, it wasn't screened for the festival press, and after a long day of film-watching, I couldn't muster up the energy for tonight's screening. I'm not particularly bothered — I'll catch it one of these days. (Here's Kris' withering review, to jog your memory.)
As I'm restricted by time (not to mention a hellish head cold), I can't offer full reviews on everything, but what follows are my impressions of four titles that screened earlier today.
In my view, the best film of the day (and likely to remain one of the best of the festival) was, easily, writer-director-actor Matthew Newton's "Three Blind Mice" (***1/2), a baldly funny, ultimately devastating study of male insecurity from Down Under that I already highlighted in my festival preview.
The film follows three naval officers as they embark on a boozy, debauched night of shore leave before shipping out to Iraq the next morning. Randy alpha male Harry (Newton) is the leader of the night's entertainment, ordering prostitutes and drinks with equal abandon; more reluctant are strait-laced Dean (Toby Schmitz), seeking time alone with his fiancee, and emotionally frail Sam (Ewen Leslie), whose secret escape plans are sparked by an encounter with free-spirited waitress Emma (Gracie Otto).
It's not the most innovative set-up, and early scenes threaten a chamber-piece air, but as the history between the three friends is revealed to be far more fraught than initially suggested, the film takes on a nightmarish, almost Pinter-esque quality, propelled by nervy characterisation and breathlessly vernacular, gleefully un-PC dialogue. A handheld camera bobs and weaves in merciless close-up to create a discomfitingly intimate filmic space in which characters' thoughts become narrative events, written across the landscape of their faces.
Performances are superb across the board. Otto (Newton's offscreen partner, and daughter of veteran character actor Barry, who also appears) makes a striking debut, her gangly, fresh-faced charm masking Emma's steely emotional pragmatism. She could well be Australia's next big export. Newton, meanwhile, is as assured before the camera as behind it — his balance of blokish affability with latent livewire fury recalls the young Russell Crowe at certain points. Whether as actor or auteur, however, he's a name to watch — this is one of the year's strongest debuts.
Like much of the so-called 'mumblecore' genre it represents, Greta Gerwig and Joe Swanson's "Nights and Weekends" (***) has been dismissed in some quarters as indulgent navel-gazing. In some respects, that's true — the film is, after all, a series of circuitous conversations between two neurotic lovers (played by the directors, no less), almost entirely excluding any outside characters. Unable to decide what they want from their long-distance relationship, or, for that matter, themselves, they talk, fuck, argue, break up, talk, fuck…
It sounds trying, and for certain stretches, it is. Gerwig's character is particularly self-involved and irksome — albeit deliberately, courageously so. This isn't a romance in which you necessarily root for the protagonists; rather, it's an honest, uncomfortable dissection of a typical 21st-century relationship, with penetrating accuracy and insight into the minute shifts in interaction and perception that separate lovers from friends from mere acquaintances.
It's a hard film to warm to, but there's much to admire here, from the smartly observed (one presumes partly improvised) script to the vanity-free performances. The resulting film may be uneven, but it's also strangely moving and surprisingly erotic — for one thing, it's refreshing to see an American film acknowledging that unbeautiful people have sex too.
As languidly low-key as "Nights and Weekends," but rather less challenging, Jesus Ponce's "Lazy Days" (**1/2) is a gentle character study of three twentysomething schoolfriends, all unemployed and still living at home, belatedly coming of age in Spanish suburbia. It's a great subject for a story — the nest-clinging manchild is an increasing social phenomenon in Europe — but Ponce's film, while likeable, proves dramatically underpowered, with characters a little too flat, and a social agenda a little too obvious, to sustain it as mood piece alone. Dario Paso is affecting as the most unhappy of the trio, and there's some snappy dialogue ("You've had less sex than a Teletubby," a family member scolds one of the men), but it never really registers — the context of a festival doesn't really flatter such a lightweight work.
Last, and sadly least, comes Joko Anwar's "Kala (The Secret)" (**), an initially evocative but ultimately ludicrous fusion of film noir and mythic Indonesian fantasy that plays a little like "Angel Heart" without the redeeming sense of humour. I couldn't begin to tell you what it's about, beyond the fact that it follows a gay detective and narcoleptic journalist-turned-PI on a joint mission to uncover a serial killer who may or may not be real — but the investigation gradually morphs into a spiritual duel that has provoked comparisons to "Highlander" in some quarters, and left the audience I saw it with largely perplexed.
It's a pity, as there's much to engage the eye here — the film's lushly ochre-soaked lensing pays equal tribute to 40's Hollywood noir and Christopher Doyle's heightened Orientalism. The resulting "Chinatown"-gone-East feel (the film is set in an unnamed country) contributes to a richly textured story world in vain search of a coherent story to inhabit it. I'd keep an eye on Anwar nonetheless.
That's it for today. Tomorrow brings another Toronto-tainted Gala screening I'm not sure I'll have a chance to see (Richard Eyre's widely dismissed "The Other Man"), as well as such titles as "Dean Spanley" and Brit sleeper "1234."