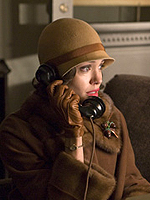 It's been a while since I've committed to a long-form review, and for that, I have to apologize.  Short Takes here and there don't exactly cut it, but we've certainly stayed afloat in this light with Guy's wonderful work across the pond.  I don't get a chance to sit down and hammer out some thoughts very often, and I'm hoping that will change in the coming weeks.
Two films that jumped out this week, however, demanded some attention.  The first is Matteo Garrone's "Gomorrah," which I saw recently in preparation for the AFI Fest.  The film was well-received at Cannes and has become Italy's entry in the Best Foreign Language Film Oscar race.
I have to say, I'm in agreement with Guy's assessment for the most part.  Garrone's patch-work narrative might seem trite and even trendy at first mention, but the menagerie works because it isn't pretentious.  There is no sense of contrivance or expressed intent to make these five separate narratives comment toward one another or intersect in a nifty manner.
The assemblage is borderline slap-dash and is more impactful as a result.  In a sense, Garrone has cooked up five tense, detailed short films and simply sifted them together.  All roads lead to nowhere, and a list of sobering Camorra facts at the end of the film really sticks with the viewer — especially that last doosey.
(More on "Gomorrah," plus thoughts on "Changeling" after the jump.)
The most arresting of the yarns is probably the tale of two doofuses, a pair of cocksure misfits that get what's coming to them and stand as poster children for keeping your nose clean, among other more shaded intricacies.  But I was most moved by Gianfelice Imparato's work as a gun-runner losing himself in the haze of gunfire and accelerated violence in the Camorra.
Garrone and company have done a fine job drawing a lot of valuable concentrate from Roberto Saviano's book and could do well to be recognized for their work on the page.  But I won't hold my breath.  Check out Guy's review of the film here.
Meanwhile, Clint Eastwood's "Changeling," which I saw Tuesday night, isn't the superior effort a viewer would come to expect after the filmmaker's streak of critically acclaimed films, but it is hardly deserving of serious discontent either.
In true Eastwood fashion, the narrative is pared down to an essence but includes a few too many scenes; the film could do with a 15-minute shave.  But Angelina Jolie's performance as a woman left childless, and eventually, helpless (as a result of an incompetent Los Angeles Police Department), never boils over when it threatens to do so.
Eastwood, meanwhile, conjures a 1920s Los Angeles that comes across as fascinating fantasty.  This is the L.A. once dominated by the red car trolleys, a time before Detroit and Akron got its hands on this vast playground to test mass automobile transit.  Eastwood's cinematographer of choice, Tom Stern, captures the scenery in expressive hues and interesting composition, quite possibly making for his finest work to date.
J. Michael Straczynski's screenplay is simplistic and really moves, but doesn't seem to be the work of the same man who has become best-known for his work in sci-fi television and comic book publishing.  Jason Butler Harner and Eddie Anderson are perhaps a bit unbelievable and at times trying in their performances as major players in the film's second act, but they never sink the ship and serve their purposes well enough, despite performing in a few of the scenes that might have been better left out of the film.
On the whole, I wouldn't call "Changeling" a sure-fire awards contender outside of the ubiquitous Jolie and her often-discussed performance, but I would say that any overly intense criticism of the film is probably hyperbole.  Not that anyone has to share my view of things, but I'd say Eastwood has been vastly overrated for the better part of five years.  A number of his films in this stretch have been lacking the substance they've been championed for, even his most intriguing effort of the bunch, "Letters from Iwo Jima."
With that in mind, I'd call "Changeling" his greatest success since "The Bridges of Madison County" 13 years ago.  It isn't because it is an earth-shattering achievement.  It's because it stays on track and is more fully realized than the bulk of his critically acclaimed but merely passable, in one case wretched (ahem — "Million Dollar Baby"), filmmaking output over his recent hot streak.