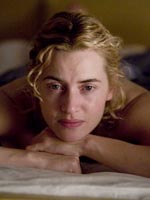 Brad Brevet over at Rope of Silicon has received some second-hand information from post-production of Stephen Daldry's already controversial "The Reader."  He's also posted a couple of new images from the film, bu here's the grist for the rumor mill:
I got a tip from someone claiming to be close to the production saying "editing is not even half-finished" but the biggest problem is apparently the score. Our tipster says, "Although Alberto Iglesias will probably do the score, the other two finalists are still in the game – Ozren K. Glaser, a brilliant young Croatian composer and Nico Muhly, a dark-styled Peter Glass assistant."
Shocking?  Not at all, since this film was never going to be finished in time for Harvey Weinstein's preferred release date and filmmakers involved have said as much.  But composers are the most expendable aspects of a film's creative process, fired more often than any other element because sometimes it just isn't working.  Igelsias has long been marked as the composer for "The Reader," so I'm not sure why there are other "finalists" in the running.
Whatever the case, more bad news for a film that will likely be preceeded by all of this negativity.  But at least we have new pics!
Check out the rest at Rope of Silicon.