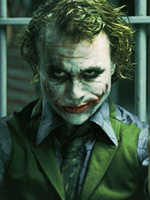 Add another one to the list.  It looks like Thelma Adams has joined Pete Howell in predicting Heath Ledger for a lead actor nomination in WB's "The Dark Knight."  We first mentioned this idea in back in June, before the film landed in cinemas, and it has slowly snowballed into a possibility for a couple of pundits.
It really depends on what Warner Bros. decides to do with the performance, however.  But if the studio tries its hand in the lead category, I really don't think it will matter.  The guy is getting a nomination.
I hate to "go there" with the first concentrated Bat-talk in a month or so (you know, since some of our more bizarre readers can't handle talking about comic books in a serious discussion).  But it's worth talking about at this point.  WB hasn't declared a strategy, hasn't launched an awards site, hasn't shown its cards at all really, other than to announce a January re-release for the film aimed at securing last minue Oscar goodwill.  And, of course, the Academy will decide for themselves which category Ledger belongs in.
Conventional wisdom dictates that Ledger would have a much less turbulent ride to a nod in the supporting category, with a traditionally weaker field and less opportunity for Academy members to balk at the notion of a comic book portrayal sliding in.  But if you ask me, this is the performance of the year — and not just because I say so, of course.  Ledger's Joker has inched toward infamy, become a pop culture staple and earned its place alongside the greatest of screen villainy.  You'll see his guise all over the country in 17 days.  His chances at a lead nomination are as good as they are in supporting, because at the end of the day, whatever the campaign, his is the most talked-about portrayal of 2008.
I don't think there are too many people who would questiont that.  The only variable has been where Ledger can win the award, and you'll get no argument here that the supporting category is an easier path.  But then again, is it?  The supporting actor hopefuls have slowly congealed into five solid contenders, at least two of them sporting the scenery-chewing chops that could dilute Ledger's work ever-so-slightly in the field.  Maybe it isn't a walk-away there, any more than it would be in lead.  So why not go for the gusto?
It's all very timely at the moment, seeing as Warner Bros. has lost a dog in the race as of this weekend.  Until "Gran Torino" suddenly sneaks up on all of us, "The Dark Knight" is the studio's awards season hopeful.  But we're just spit-balling for now.  More than likely we will come across an FYC ad or an awards site and Ledger will be listed in the supporting category as expected.
But don't be surprised.  Don't be surprised.
Have your say.  Should Heath Ledger be campaigned as a lead or supporting actor for "The Dark Knight?"