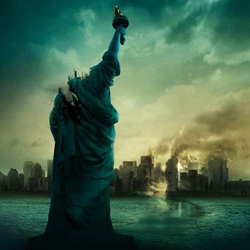 It's that time of year.  Candy fills the aisles of grocery stores, retail outlets are reaching that awkward phase when Halloween decorations lie next to Christmas items (they unleash them earlier and earlier each year) and, if you're lucky to be some place where they actually have seasons, leaves are decorating the ground.
It's also that time when Halloween stores move into every vacated department store on the block with their latest array of timely Oscar costumes based on your favorite movies from the last 10 months.  There are the holdovers from years past, of course.  Captain Jack Sparrow here, Superman there.  And let's not forget the ever-popular rubber Presidential likenesses.  So what can we expect?
There will be plenty of "Dark Knight"-themed wear, each item more embarrassingly realized than the next.  Iron Man will be popular with a lot of the tiny youngsters, as older kids might feel strange in a plastic faux-metallic robot get-up.  They'll stick with Napoleon Dynamite or another year of Borat before they subject themselves to that.
Whatever the costume, one thing is always pretty much guaranteed: the costumes are gonna suck.  These things are mass-produced and don't fly off the conveyor belt fast enough.  Creativity is lacking, it's all a painful mess.  The only answer is good ole' fashioned ingenuity…and we're here to help.
Below you'll find our list of the top 10 movie-related costumes of 2008, with an eye toward some brand of originality throughout (though the unavoidability of obvious picks creeps in here and there).  Herewith is our guide to a memorable Halloween season: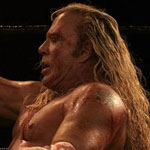 10. Randy "The Ram" Johnson
For all the little tikes who worship (or worshiped) the ground Michael Hayes, Dallas Page, Shawn Michaels and the Ultimate Warrior walked on, don your best set of tights and break out the fake blood for a tour around the neighborhood as the lead character in Darren Aronofsky's "The Wrestler."  For added "umph," bring along a female friend, scantily clad as stripper/love interest Cassidy, or get some other kids to go in with you as nemesis wrestlers.  Accessories that'll sell it: metal chair for out-of-the-ring clobberin', entrance music accompanying you from house to house (maybe bring a boombox for the occasion).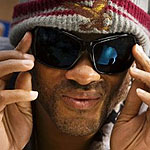 9. John Hancock
There are a number of different ways you can go with this one.  If you prefer the spiffy new threads Will Smith squeezes into toward the end of Peter Berg's "Hancock," have at it.  But you might have a little more fun rolling around in the best set of bum rags you can find.  The attitude is a must with this get-up, however, so make sure you tell them where to stick it after you exclaim, "Trick or treat!"  A constant look of disdain and/or apathy is a must, but don't try lifting any parked cars along the way.  Accessories that'll sell it: winter eagle cap, half-empty 40 oz. bottle of malt liquor, giant sunglasses.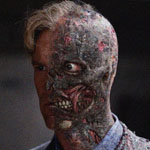 8. Harvey "Two-Face" Dent
From Christopher Nolan's "The Dark Knight," this is a tough one to pull off since you won't have the benefit of computer-generated imagery and murder is out of the question for obvious reasons.  But the right amount of passion and plenty of make-up can go a long way, and a half-burned suit is easy to come by (or manifest).  Steer clear of the hot-pink, however, lest you be mistaken for Tommy Lee Jones's rendition of the character.  Accessories that'll sell it: two-sided 50 cent piece scarred on one side, simple revolver (fake, of course), "I Believe in Harvey Dent" button for irony.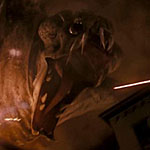 7. Parasite
Think outside the box.  These critters from Matt Reeves's "Cloverfield" could spook a whole neighborhood if implemented correctly.  Get a bunch of your friends together (I'm talking 20 or 30) and get to work on any combination of shredded rubber, papier-mâché and various oily substances (we can't tell you how, we're only good for the ideas).  Set yourselves loose on unsuspecting trick-or-treaters with an array of imposing gestures, but remember, gurgly noises are always at least a little scary.  Accessories that'll sell it: If you can find 10 people willing to stand on each other's shoulders, bring the Cloverfield monster along, or a headless Statue of Liberty for added effect

6. EVE
Everyone's going to try the ole' cut-out-a-cardboard-box routine in the service of becoming "WALL-E" this season.  But the ladies have an option as well, and a decidedly more creative one.  Getting away from the cube-like appearance of her robotic counterpart in Andrew Stanton's "WALL-E," EVE is a welcome respite with fragile curves and a soft mechanic purr to her voice.  Find some really thick PVC piping and make your parents chisel it down to a believable oval and have at it.  But express yourself — paint the eyes to match your emotions!  Accessories that'll sell it: string of Christmas lights, vocal manipulator.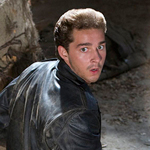 5. Mutt Williams (with optional monkey)
From Steven Spielberg's "Indiana Jones and the Kingdom of the Crystal Skull," you'd better invest in some moose and hair spray for this one because that pompadour isn't going to shape itself.  Find some old 50s leather jacket and a thin primper's comb and you're half-way there.  Add some slightly faded blue-jeans, rolled at the boot and remember to have a chip on your shoulder.  You're always trying to prove something, even that you're not part of a terrible film that has destroyed a wonderful franchise.  But the accessories are where it's at, so — Accessories that'll sell it: small monkey, live or stuffed, depending on your resources.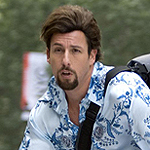 4. Zohan Dvir
Bad movies don't have to be totally forgotten when you've got a gold-mine like this to work with on Halloween.  In perhaps Adam Sandler's most costume-worthy performance so far (unless you like — or saw — "Little Nicky"), Zohan Divir from "You Don't Mess With the Zohan" has a lot of potential.  You can rock the suave threads Zohan sports on the casual side or throw on some tight denim shorts if you're brave enough (check on the weather in your area first).  The Mariah Carey shirt is a must in the latter instance, but whatever you do, get the hair and goatee right. Accessories that'll sell it: hair dryer, machine gun, scissors.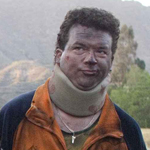 3. Red
You won't have much more fun with a costume than Red, the instantly iconic moron portrayed by Danny McBride in David Gordon Green's "Pineapple Express."  Like so many of our choices, the hair has to be perfect.  You want a post-ass-kicking Red, so be sure to dirty up that bright yellow shirt and Cardigan.  The neck-brace doesn't even belong in the accessory department because it is and should be seen as a crucial part of the mixture.  Dig down (the depth depends on you) and find your best look of stupidity and see how long you can rock it throughout the night.  Accessories that'll sell it: shotgun, roach, maybe some duct tape.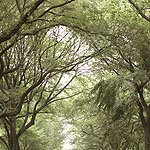 2. Tree
The terrifying antagonists of M. Night Shyamalan's latest shit-fest "The Happening" can't go ignored.  Stand-out from the rest of the foliage on your block.  Choose from a wide array of plant genera to find just the right blend of imposing and laugh-out-loud absurdity.  If someone asks you who you are, don't anser, but continue to make a subtle, gas-like hissing sound to rachet up the spookiness.  It's a brave choice if you decide to go there, but what a statement, an outfit that says, "I can make this work."  Accessories that'll sell it: Get some friends together and make a bush mob.  Maybe some maple syrup for sap…your hands are tied.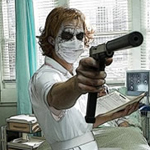 1. Nurse Joker
Everyone is going out as heath Ledger's Joker this year from "The Dark Knight."  Some will pay 20 bucks for that crap rubber mask they're hawking in costume shops while others will take the time to apply the make-up.  Others still will have the passion to affix fake skin for scar tissue around the lips, but you can out-do them all in a get-up not so many wannabes will don: nurse Joker.  You remember the scene, that wonderful dialog between Harvey Two-Face and the Joker, the meaningful banter, the heart of the film…"Hi."  So grab a nurse's gown, get the make-up in order and work on the voice because it's showtime!  Accessories that'll sell it: pistol with silencer, doctor's chart, "I Believe in Harvey Dent" button.

Others:
Georgiana, the Duchess of Devonshire; George W. Bush; Scott Rudin; WALL-E; Kirk Lazarus (You pick the role!); Richard Nixon (tired); Las Vegas Tony Stark (bring your dice); Chad Feldheimer
Have your say.  What are some outside-the-box Halloween costume ideas this year?