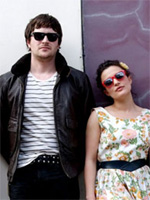 So the 52nd annual London Film Festival begins tomorrow, bringing with it a feast of cinema cherry-picked from the rest of the fests, with a couple of new titles thrown into the mix too.
As promised, I will be keeping you updated with proceedings, starting with tomorrow's world premiere of "Frost/Nixon." I'm seeing the film bright and early in the morning, and will have a review for you before the day is out.
As I've said before, this year's London lineup is a little more low-key than usual, but that's the kind of year it's been for movies. All the major festivals have struggled a bit this year, but London at least has the advantage of filtering their best bits, meaning plenty of hot films will appear, from "Slumdog Millionaire" to "Che."
But those tickets are hard to come by, and when one moves beyond the big, sexy drawcards, the waters get a bit murkier. With almost 200 films (not counting shorts) screening from every corner of the globe, there's a lot to explore. I've been immersed in festival press screenings for the last fortnight, and have still seen only a fraction of what the festival has to offer.
In the interest of providing alternatives then, let me offer up a handful of lesser-hyped titles that are really worth catching. More detailed reviews will be provided as the festival progresses, but for now:
1234 (dir. Giles Borg)
Lots of buzz circling around this under-the-radar crowdpleaser. A sweet-natured character comedy (with an ace soundtrack) about a lovelorn geek struggling to start up an indie band in boho East London, "1234" had the most packed press screening of the festival so far, and is bound to be a Brit hit. Ditch "Nick and Norah," and catch this instead.
IL DIVO (dir. Paolo Sorrentino)
Winner of the Jury Prize at Cannes, Sorrentino's dynamite political biopic-cum-thriller has had some of its thunder stolen by Italy's Oscar selection "Gomorrah," but it's no less vital and exciting a piece of work.  Pulsing with wit and technical invention, this portrait of former Italian prime minister Giulio Andreotti channels the best work of Costa-Gavras and Oliver Stone.
LA BELLE PERSONNE (dir. Christophe Honore)
Certainly one of the most romantic teen films I've ever seen, this radical updating of 17th-century French classic "The Princess of Cleves" follows the complex amorous entanglements of a group of Parisian high school students — and teachers — with rare grace, compassion and visual poetry, all set to a woozy score of Nick Drake songs.
THREE BLIND MICE (dir. Matthew Newton)
Like "On the Town" gone seriously, wonderfully wrong, this terrific debut for writer-director-star Matthew Newton follows three Australian naval officers over one night of shore leave in Sydney. What starts as a riotous 'guys on the loose' comedy turns into a deeper, darker study of maculinity in crisis, but it never loses its wild, occasionally warped sense of humour.
THE GOOD, THE BAD, THE WEIRD (dir. Kim Jee-Woon)
Can't get tickets for "Slumdog Millionaire?" Don't worry. Screening at the same time is this dazzling Korean spaghetti western — you read that right — that packs a relatively simple treasure-hunt narrative with gleefully eccentric characterisation and virtuoso camerawork, all in the cause of a meticulous homage to Sergio Leone. As bold, beautiful and batshit-crazy a film as the festival has to offer, and a fitting counterpart to…
ONCE UPON A TIME IN THE WEST (dir. Sergio Leone)
Okay, so it's not new, but you can bet there won't be a greater film at the festival than this exquisite restoration of Leone's 1968 masterpiece, returned to glorious widescreen with all its 165 minutes intact. This beauty is only having one screening at the festival — make sure you're in it.