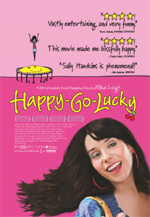 Wow. I was expecting a warm Stateside reception for Mike Leigh's "Happy-Go-Lucky," but even so, this is exceptional. For those who place stock in such things, the film's Metacritic score is sitting at 82, but more importantly, some top critics have fallen hard for this one.
If the film's awards hopes seemed to be slipping oh-so-slightly following a respectable but somewhat muted festival showing last month, these reviews should give it a second wind. Sally Hawkins, in particular, should gain traction in a crowded Best Actress field with amazing notices like this one from Stephanie Zacharek:
Poppy's cheerfulness isn't a shield against reality … And that's where both the boldness and the delicacy of Sally Hawkins' performance come in. This is the finest performance of the year — though it's only October, I can't believe I'll see anything better … Here, Leigh has given her the challenge of a lifetime — the kind of role an actress can play at just one point in her life — and she more than meets it.
Zacharek is no less ecstatic on the film itself:
It takes more than ambition, and more than money, to make an intimate masterpiece like Mike Leigh's "Happy-Go-Lucky," a picture so seemingly light that it might be hours (or even days) before you realize how deep and rich it really is … Leigh and his actors work mysterious magic in "Happy-Go-Lucky." This is a movie about hitting the groove of everyday life and, nearly miraculously, getting music out of it.
Over at the New York Times, the great Manohla Dargis (who picks up on the "Naked" parallel I discussed a while ago) is just as impressed:
(An) expansive, moving film … Mr. Leigh has a documentarian's eye for unadorned reality — his people and places look equally lived in — and his dialogue has the ebb and flow, the swells and eddies and logjams of ordinary conversation. His characters often talk in circles instead of direct lines, clucking and offering cups of tea. But the dramatist in Mr. Leigh is always hard at work, aligning his characters for maximum narrative effect and emotional pow.
She also describes Hawkins' performance as "glorious … a gurgling, burbling stream of gasps, giggles and words," while Kenneth Turan at the LA Times is wholly won over by the character of Poppy:
As is always the case with Leigh's protagonists, Poppy does not fit into a schematic log line, she simply is. She exists with an intensity that few other filmmakers' characters can manage because of the singular way Leigh creates his people.
I'm also glad to see that Eddie Marsan isn't getting ignored for his sterling supporting turn in the film. In the midst of another out-and-out rave, The Wall Street Journal praises Marsan for playing "with a wild anger that's fully equal to Sally Hawkins' epic sweetness." Turan deems him "exceptional," while Peter Travers takes time out from his gushing praise of Hawkins ("no list of the years best performances should be made without her") to add:
Marsan's performance amazes, moving from the comic when he uses sounds ("Enraha") as a driving aid to pity and terror when Scott's jealousy drives him to the brink.
I couldn't be more thrilled by this reception. "Happy-Go-Lucky" really is one of those rare films that gets better the longer it sits in your mind — it's certainly one of the most unique achievements of the year. I've been back and forth on its awards prospects: when I saw it earlier this year, I thought it an underdog contender for a Best Picture nomination, but other independents seemed to steal its thunder.
But a critical push like this could really propel Leigh back into the frame — after all, few saw that Best Director nod for "Vera Drake" coming in 2004. The film should benefit from playing in the less competitive Comedy/Musical sandbox at the Globes, with Hawkins guaranteed a nomination (and a close fight with Anne Hathaway for the win), and the film a probable contender too.
Oscar-wise, Best Actress and Best Original Screenplay nods still strike me as highly likely, with Marsan a real dark horse in the Supporting Actor field. (Watch out for our interview with Marsan next week, by the way.) The film faces a steep uphill climb in the Best Picture and Best Director races, but I wouldn't discount this scrappy little contender.