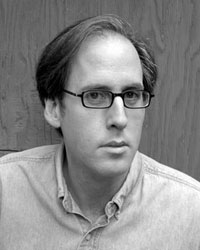 Like a number of film music composers, Jeff Beal makes his home north of Los Angeles in the rocky, canyoned city of Agoura Hills.  One feels a sense of the old west before even seeing the ranch-style houses in his neighborhood and the tail-flipping horses tied out back.  Questions about his work on "Appaloosa," Ed Harris's latest entry in the western genre, seem to manifest out of thin, dusty air by the time we make it downstairs to his efficient but Spartan studio.
At the beginning of the process, Harris told Beal he was not interested in anything overly romantic or mythic.  The mandate was the relationships, the conflict they bring about and the intimate world the characters inhabit.  It was a unique vision for Beal, but one he was more than willing to explore.  He had his share of wells to draw upon, but his work in high-end television projects really stuck out.
"The only thing I can think of that was sort of similar was [HBO's] 'Rome,'" Beal said.  "It was a similar approach creatively because you were dealing with a historical genre, a genre that's been done a lot, sometimes with a lot more overt flare.  And this was more like the ground view of these people."
To that end, Beal set about constructing a theme with little harmonic movement, something that would carry the feeling of the audience being visitors in the world of Virgil Cole and Everett Hitch.  Spring-boarding off a life-long interest in folk music (American or otherwise), Beal wanted to make the music reflect the story-telling nature of the narrative.
"There was actually a second half that became more of a traditional piece of music because at the end of the day we decided we don't need that because it's better to have just a clean, simple statement," he said.  "These guys are men of action.  It's all about a process, one step in front of the other.  It's a journey.  One of the phrases Ed gave me when we were starting was 'rough elegance,' which I loved.  A lot of the music sprang from that inspiration."
Tackling the music of a studio western was not a challenge lost on the composer.  The genre boasts a long lineage of exemplary work from legends such as Elmer Bernstein, Jerry Fielding, Ennio Morricone and Max Steiner.  Even John Williams cut his teeth on the genre with 1973's "The Cowboys."  But Beal's strategy was to avoid, as much as possible, the daunting nature of his work's place in that history.
"They were kind of this big mountain over in the distance, but I almost wanted to forget them," he said.  Instead, Beal drew upon his jazz roots to bring a confidence about improvising on the score.  He used an out-of-tune mandolin, a bow on a banjo and a brass arrangement to carve a unique flavor into the film's soundtrack.
"There was a fair amount of trying to find the right color of the sound that made it feel sort of gritty, handmade, I guess," Beal said.  "The great thing about working with Ed is there's nothing generic about him.  He's very specific.  It has his stamp in the sense that it's a very personal way of filmmaking, it's not product, it's not like a blockbuster approach."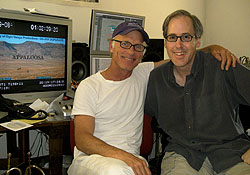 Bringing Beal's trumpeting background to the table is really what set the work apart.  In an earlier attempt at the score, Beal said it was almost all guitar-driven.  But when Harris mentioned the idea of brass, a light bulb went off.
"I liked that," Beal said.  "So the very first version of the theme we hear at the beginning I played on trumpet, and there was something about that sound when we heard it that we knew it was going to be an important part of the movie.  It's sort of heroic.  It seems to work well for a strong character like Ed's character and it can be emotional."
The implementation of brass reminds of the great work of Jerry Goldsmith, particularly his efforts on "L.A. Confidential."  A lingering sense of mystery and even subtle tension is at play in "Appaloosa" that seems to recall the gumshoe mistrust of that film noir score.  Sure enough, Beal counts Goldsmith as one of his heroes, noting that some of the legend's best scores have resonated with him more than the work of any other composer.
The composer seems to feel more invigorated by his second collaboration with Harris than he did eight years ago.  "Pollock" was, after all, reliant on set pieces, painting scenes, etc.  With "Appaloosa," Beal felt quicker on his feet, dancing around the performances and story points.  The challenge has apparently charged those improvisational jazz roots of his.
"I like the idea of getting rid of the safety net, be willing to take risks," he said.  "It's something that's harder to do as you get further along in your career and you have all this work behind you.  And one of the things I like about working with Ed is he's all about that.  He's not about the safe choice.  Even if we had something we liked he'd say, 'What if we just threw that out and really went outside the box?'  And that's just the kind of spirit he is as an artist.  He's not afraid to poke around and see what the possibilities are instead of the first thing that works."