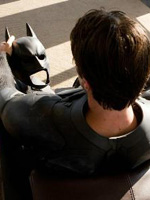 This is exactly the kind of thing "The Dark Knight" needs to tap into a genuine conversation about the film's — and Batman's — relevance in the zeitgeist.  I've been watching The History Channel's "Batman Unmasked: The Psychology of the Dark Knight" this afternoon, and for a Bat-nut like me, it's the ultimate geek-out opportunity.
The entire 60-minute program is available over at YouTube.  It's aired on television twice today and I don't know when it will run again, but it's all kinds of fascinating.  It takes a look at the character's progression from 70-year-old roots through expansion on the psychological nature of the character in the 1980s and how that history is commented upon in Christopher Nolan's "Batman Begins" and "The Dark Knight."
The most intriguing part for me comes around the 08:15 mark of the clip below.  I didn't know this, but apparently much of Nolan's vision for Bruce Wayne stemmed from a comparison to Theodore Roosevelt.  Check it out:
There are, of course, interviews with filmmakers, actors and DC higher-ups, but there are plenty of doctors, professors and psychologists thrown in for good measure.  Talk about a treat.  I just wish more footage from "The Dark Knight" was used in the program, though they do get around to discussing the Joker in great detail amid a summation of the Bat's rogues gallery of villainy.
Anyway, I'd love to see more stuff like this hit the tube.  Or more features digging for this kind of thing in print rather than soliciting general soundbytes about Ledger's performance or the box office intake of the film.  "The Dark Knight" is an important movie event on many levels this year, and it goes pretty deep.