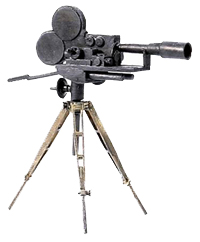 The Academy Award for Best Costume Design recognizes, shock of shocks, the clothes and accessories worn by actors in a film.  Clothing can add to the story and express the nature and situation of the characters who wear them.
If a single word could be used to describe this category, it would be "period."  31 of the 40 nominees here this decade were period pieces.  This is not altogether surprising.  Period clothes automatically draw attention by not being the sort of fashion we see every day on the street and require the costume designer to accurately portray the time in which the film takes place.
The nominations two years ago "The Queen" and "The Devil Wears Prada" were refreshing in my opinion but extremely rare, being the first contemporary nominees in a dozen years.  Admittedly, fantasy films occasionally find a home here as well.  Seven nominees this decade fit that mold.  But even so, there is usually only one –- and never more than two –- spots available for non-period films in this category.
This is also an arena that tends to reward many familiar faces.  In a typical year, only one or two of the nominees are first-timers, while many designers are (usually deservedly) seen year after year.  This trend has occasionally resulted in some films one would never expect to find in the awards race landing the label "Oscar nominee."
Catherine Martin might be leading the way this year.  She won this category seven years ago, the last time both she –- and her husband/director Baz Lurhmann -– worked.  That film was "Moulin Rouge!" and its design elements were fantastic.  Again doubling as a production designer on "Australia" this year, Martin will fashion the world of a Briton coming to a strange historical land, filled, as always, with Lurhmann's bordering-on-fantastical elements.  The design opportunities should once again be amazing and I'd be quite surprised if Martin failed to make the cut.
Albert Wolsky proved with "Across the Universe" last year that he can never be counted out of this category.  The 77-year old, 40-year veteran of cinema has become Sam Mendes's costume designer of choice in recent years.  "Revolutionary Road" gives him the opportunity to capture 1950s America.  The work may not be terribly flashy but it will have to be authentically period and if the film is an across-the-board contender (and I have no doubt it intends to be one); Wolsky will certainly be in the running.
Ann Roth has been designing threads for movies for more than four decades.  It is frankly somewhat surprising, in my opinion, that she has only four nominations to her credit.  With Stephen Daldry's "The Reader," she will have to detail decades of changing fashion.  She was nominated for similar work on "The Hours" in 2002, so if Daldry's film delivers, I would say Roth would be in the thick of things.  The behind-the-scenes war on when to release this film does not strike me as good news, however.
Roth will also be designing the threads for "Doubt" this year.  Another period film, and a potential Best Picture nominee, I would not discount her here.  But this John Patrick Shanley film seems to me to be the sort where the clothes will likely be pretty plain — lots of school uniforms, nun's habits and priest's cassocks being the vast majority of the wardrobe.
Jacqueline West will have the task of costuming the last 80 years of the 20th Century on David Fincher's "The Curious Case of Benjamin Button."  This work will necessarily involve numerous eras and is thus bound to be an excellent opportunity for this talented costume designer to show her skill.  Nominated in 2000 for "Quills," I would definitely say this is her best chance at returning to the race.
Deborah Hopper has designed the costumes for seven Clint Eastwood films this decade.  "Changeling" will prove her best chance at a nomination for these efforts by bringing us back to 1920s Los Angeles, with superstar Angelina Jolie sporting the costumes.  Nonetheless, the film has proved quite divisive to date.  I suspect Hopper's chances will ultimately depend on how consensus pans out on the film.
While "The Duchess" opened to respectable reviews, raves were not plentiful for this latest opportunity to see Keira Knightley in a corset.  But the wardrobe Michael O'Connor created was expansive, gorgeous and flashy.  Paramount Vantage will certainly promote his work passionately.  (In fact, they are already doing as much.)  This strikes me as a very possible nomination.
If we're looking for another newcomer, Eimer Ni Mhaoldonhaigh's threads for "Brideshead Revisited" ought to be considered.  Authentically period, the filmmakers brought a new take on Evelyn Waugh's classic story to life.  While the film may be considered unnecessary or disappointing in the eyes of many (myself included), that does not always matter all that much in this field.
Jenny Beavan has earned eight nominations over her career, five for her Merchant-Ivory collaborations.  Clearly respected by her fellow costumers, she will be designing the threads for Edward Zwick's "Defiance."  While war films often do not fare terribly well in this category, this film will take place off the battlefield for the most part, likely with authentic rugged wear of the "defying" parties as opposed to strictly military uniforms.  If Zwick's film strikes a chord with the Academy, Beavan could be looking at nomination number nine.
Danny Glicker's career reached its highlight to date when he won the Costume Designers Guild award for "Transamerica" three years ago.  He'll be once again venturing into the LGBT world with Gus Van Sant's "Milk."  1970s San Francisco was a hotbed of avant garde fashion, while simultaneously retaining elements of a conservative past.  Moreover, advanced word on the crafts elements in the film is strong.  If it becomes a major Oscar player, I'd say Glicker is primed for a nomination.
Lindy Hemming has not returned to the nominees since winning this category nine years ago for Mike Leigh's "Topsy-Turvy."  She is assured a guild nomination for Christopher Nolan's "The Dark Knight."  An Oscar nomination strikes me as unlikely given the overwhelmingly contemporary nature of the costumes.  But to quote Jim Gordon, the Joker's "clothing is custom" and will be remembered in film history as part of the iconic character.  If "The Dark Knight" does exceptionally well in awards season and many fall films disappoint (both of which are big ifs), I would not totally rule Hemming out of the race.
And then we come to the great Sandy Powell.  Well on her way to becoming a costuming legend, Powell's work is traditionally lush and beautiful while simultaneously undistracting.  And it always serves her director's vision.  Yes, she is my favorite working costume designer.
While "The Other Boleyn Girl" was an utter abomination as far as I was concerned (and I am certainly not alone on this front), Powell's work was top-notch as always.  This category has made an Oscar winner out of "Marie Antoinette" and nominees of films such as "102 Dalmations," "The Affair of the Necklace," "Across the Universe" and "Troy," to name but a few.  Seeing Powell being nominated this year for creating clothes for Henry VIII and the Boleyn girls hardly seems that much of a stretch.  But if "The Young Victoria" manages to pick up domestic distribution, she's got another period piece on the back-burner.
There's another category covered.  Next week we dive into one of the high profile crafts races: Best Visual Effects.