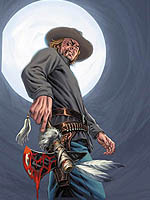 Jeffrey Wells conveys the sentiments of a single source, /Film marks it as reportage and suddenly it's considered a done deal that Josh Brolin has signed on to star in "Jonah Hex."  It all may well be true, mind you  It probably is.  But this is the kind of thing that web masters don't understand when high profile institutions like Variety hold off on linking to them until people are actually on the record.
ANYWAY, I'm a step removed from Mark Neveldine and Brian Taylor.  Friends of a friend, so to speak.  Watched a few UFC fights with the chaps.  Good guys.  But I've heard zip.  If it's true, it's definitely a better choice than Thomas Jane would have been (gossip passed along in June).  It would also be a ballsy play for Brolin to make a hard left turn out of prestige and into the realm of genre once more with the directors of "Crank" at the helm.  But I like him for Hex.
It's no secret that I'm game for just about any western at this stage.  But "Jonah Hex" represents, along with "The Lone Ranger," a branching out into typicality for the genre.  Rather than the prestige pet project here or there, we're starting to see pop culture reflexivity, and that means a lot for the future of spurs and saddles on the big screen.  When (and if) these films start making money, studios will more and more loosen their resistance against making these films.
But back to "Hex," if you don't read the DC Comics book, I certainly recommend it.  It was resurrected a few years back into a new series that is up to about #36 right now (I've got the full set), and rather than arcing major stories, it's generally a one-story-per-issue kind of thing, self-contained, very pulpy, pure awesomeness.  Give it a look.
Here is what Wells heard:
I'm told that the deal is sealed for Josh Brolin to star in Jonah Hex, based on the graphic novel and directed by Mark Neveldine and Brian Taylor (Crank, Game) and to be funded and released by Warner Bros. Brolin's rep is not only denying this but claiming Brolin is "not attached," but a voice is telling me to consider the word of a friend who tells me the deal was locked down last night.