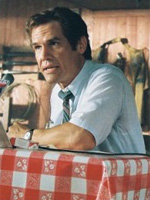 The mixed notices for Oliver Stone's "W." — some of which seem to be simultaneously admiring and bewildered — make it quite clear that the film isn't going to be a player in the top categories. But we pretty much knew that all along.
Josh Brolin's performance, however, is another story altogether. After the stunning breakthrough that he's had in the past year, playing an incumbent president — and a widely-loathed one at that — in a film by an off-the-boil director might not have seemed the safest career move.
But the gamble appears to have paid off: whatever the ultimate fate of the film, Brolin's interpretation of Bush has been widely hailed as a courageous and accomplished addition to an increasingly interesting filmography. Naturally, Oscar talk is swirling, and Screen International's review minces no words on the matter:
A wonderfully brash and fearless performance … If the film itself fails to figure in the year-end awards shortlists, Brolin must surely be considered a likely best actor nominee. Wholly immersing himself in the part, he doesn't imitate the president so much as breathe human complexity into him. Rudderless and restless as a young man, Brolin nonetheless plays him as a likeable enough fellow, a harmless jock, attractive to women and tortured by his father's expectations. As a president, Brolin plays him as a man of some intelligence, even if his arrogance and machismo are on full ugly display.
They're less sold on the film itself, citing "an overpopulated cast" and "a tone that shifts awkwardly between dramatic storytelling and smartass political comedy."
Not everyone is as enthusiastic about Brolin, with The Times saying he "does a fine impression of Bush, but that is all it ever feels like: an impression." Of course, some might say that's a distinction that has never really bothered the biopic-crazy Academy.
The assumption for a long time was that "Milk" would be Brolin's awards vehicle this year, with "W." a little too contentious to bring him glory. But, as ever in awards season, things change. James Franco is rumoured to be the real supporting standout in "Milk," while "W." isn't turning out to be the universally reviled trainwreck that some pundits were anticipating.
Many felt that Brolin didn't get his due in awards season last year — despite headlining the Best Picture champ and turning in eye-catching support in "American Gangster" and "In the Valley of Elah," he received not so much as a nomination anywhere for his pains. Should the various awards bodies decide to make it up to him this time around, my guess is he'll be riding "W." as his horse.