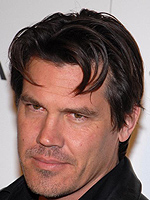 This is the juiciest scoop Jeff Wells has had in a long time.  While interviewing Josh Brolin at yesterday's "W." junket, he got the actor on the record regarding that arrest in Shreveport earlier in the summer.  You remember, back when poor Jeffrey Wright got the business end of a taser and allegedly had to deal with some racist bullshit as a prologue?
Anyway, here is what Brolin had to say:
Not to be too maudlin or morbid. But I've been around the police my whole life. I have so many policeman friends and police woman friends, and I've never never, ever, ever seen anything like it. All the time I was in jail I could think, the whole time…okay, they've arrested us knowing that their economy, part of their economy is based on the film industry. Okay, that's one…knowing this is wrong. Secondly, they know we have some leverage. With the press, with this…they know we have some rebuttal, something, some reaction. They know that.

Then I thought every person that goes through here…they have nothing, they have nothing, they're forgotten. So I wonder how many people have been abused by this system? So then I started researching . They had a kid who died from a taser, 21 year old kid. Almost 300 people have died in the last five years. From tasers? It's unbelievable, man, and the fact that they resorted to that when there was no violence?
Heavy.  Kudos to Jeff for getting the goods, though it seems Brolin was willing to hand it over on a silver platter to the first guy who dug a little.  He also mentions that the supposed video phone recording of the incident does, in fact, exist, and that it will be released soon enough.
Word.