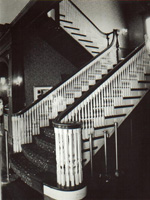 /Film points us today to a Fantastic Fest tie-in at Timberline Lodge, the hotel where Stanley Kubrick filmed his Stephen King adaptation "The Shining."  There will be a party, some dinner, and of course, an overnight stay at the creepy establishment.
That's all well and good, but forget the Timberline.  I say try your hand at a night in the Stanley Hotel out in Estes Park, Colorado.  That's the place that gave King his inspiration for the book, a supposedly haunted hotel founded by Freelan O. Stanley (of Stanley Steamer fame).  The guy built this place way out west when his wife began to come down with health issues.  Doctors said the air and altitude of the setting would be good for her.
King stayed there back in the 1970s in — you guessed it — room 237.  That room is said to be frequented by the spirit of an old maid who will set your clothes aside nice and neat while you're out hiking or skiing or what have you.  You'll come back to the room and your shoes will be put in the closet, your shirts stowed in dresser drawers, etc.
Stars tend to frequent room 237.  Back in 1994, Jim Carrey stayed in the unit while filming "Dumb and Dumber" (Estes Park was used for the Aspen scenes).  He supposedly came down in the middle of the night and told the desk person, "I don't care where you put me but you have to get me out of that room."  I've heard he won't really talk about what happened in there.
Hey — this is what the tour guides tell you.  Don't shoot the messenger.
But seriously, the Stanley is a creepy place.  They even did a Ghost Hunters episode there.  Apparently the fourth floor has the most paranormal activity, and there are lots of kids' spirits hanging around the place, tugging at shirt tales, playing jacks, etc.  The location is surreal as well, looking out over the Rockies with a vast open space out in front of the hotel.  The Rocky Mountain National Park entrance is maybe four miles away, so it's a choice spot.
If you can handle it.  Mwahahahahahaha.