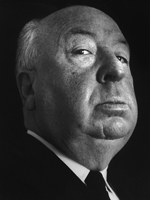 Random thoughts…and writing this I risk having my head taken off by angry fans and film buffs, but I have always had some issues believing Alfred Hitchcock to be the great filmmaker artists and historians have claimed him to be. In many ways, despite having personally lectured the man and his work to film school classes, I feel he may be the most overrated filmmaker of all time.
Aim your weapons and open fire on me, as I have placed a target on my back and surely know it, but there must be some folks out there who share my opinion?
Admittedly, "Psycho" is a powerful film.  It was responsible for ushering in a new form of horror movie, and "Vertigo" is beautifully made, but is there anyone else out there (again) who finds the characters in his films a little…cool, remote, ah, hell…cold? Never have I felt anything for a Hitchcock character.  Never have I invested myself emotionally with a single one of them, not even when portrayed by the great James Stewart or Cary Grant.
It bothers me that "Hitch" had the film finished in his head by the time he started shooting, leaving nothing for chance and removing any sense of creativity from the actors. He  spoke, they listened and moved and that was that. No where can I find any reference to any collaboration between the director and his actors, which to me is essential in filmmaking and strengthens the characters, giving the actors something to attach themselves to. If an actor is shown how to do it all, how to move, how to speak, how to play the role, when and where are they permitted to be creative?? Look at the dreadful acting in "The Birds" and you get an idea of what I mean.
"Frenzy" turned out to be a very powerful film, truly frightening, and his last good picture.  However, if you ask me, his best film was "Lifeboat."
OK, have a go…my secret is out.  I'm not a Hitchcock fan. My God the shame, the shame…the horror.  Tell me why I should think otherwise.