Fresh on the heels of Paramount Vantage's annual Vantage Guilds unveiling, Universal Pictures has launched its For Your Consideration site this season.  The five films featured are "Changeling," "Flash of Genius," "Frost/Nixon," "Mamma Mia!" and "The Tale of Despereaux."  Currently you can check out portions of the  scores from "Changeling" and "Frost/Nixon."
By the way, Vantage has added some more content since we first pointed toward Vantage Guilds on Thursday.  Stills and a screenplay for "Defiance" and "The Duchess," as well as score samples for the latter to go along with a behind-the-scenes featurette.  Nothing much for "Revolutionary Road" yet, though this pic is new to me: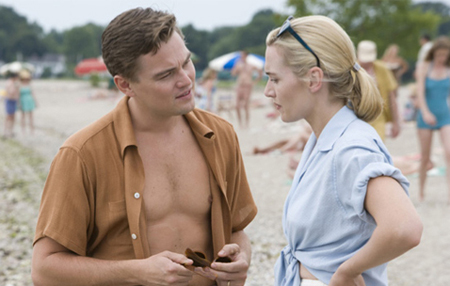 By the way, I've been told the poster for "Revolutionary Road" that dropped a few weeks back is indeed a teaser and that a final one-sheet is still to come.  Looking forward to that.