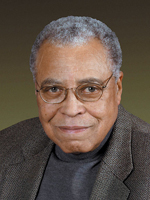 I'm two days behind in writing something up about this.  The press release landed Thursday but I haven't been able to squeeze in two minutes to comment.  I'll just link The Envelope for the story, which takes this quote from the release:
"James Earl Jones' distinguished career on stage, in film, on television, in commercials and as a vocal presence without peer commands our admiration and respect," SAG President Alan Rosenberg said. "His long and quiet devotion to advancing literacy, the arts and humanities on a national and local scale deserves our appreciation. It is our honor to bestow the Guild's highest tribute on this extraordinary actor."
Very cool news.  Jones always been an actors' favorite, going back to his SAG nomination in the guild's first awards year, 1995, for "Cry, the Beloved Country," when almost all other awards-giving bodies ignored his work in the film.  The clip reel should be fun, everything from "The Great White Hope" to "Star Wars" to, fingers crossed, "The Sandlot."
Big congrats to Mr. Jones.  It's been a long time coming.