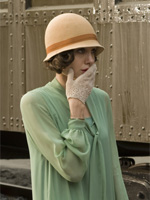 Uh-oh. Since its premiere at Cannes, "Changeling" has provoked both breathless raves and withering putdowns, but after its NYFF screening, a number of prominent bloggers are falling into the latter camp, expressing disappointment over both the film and Angelina Jolie's much-hyped performance.
The most articulate view expressed so far is by the ever-readable Nathaniel Rogers, who, despite high hopes for the film, thinks it is "overlong, overwrought" and suffers from an identity crisis:
Somewhere buried in "Changeling" is an interesting story about a woman finding her strength against significant odds … Unfortunately the movie as directed and scripted works against this potentially thrilling internal drama. The plotting and direction can't decide which kind of movie this is: melodrama, courtroom, serial killer picture, procedural, period epic?

"Changeling"'s title accurately reflects its early creepy child switch and its relentlessly mediocre shift from melodrama to true crime story. A better more disciplined film would have earned that title in a more ambitious way. It's a shame that there's so little real fluidity, few emotional surprises and no transformative character arcs within the sprawling story.
As for Jolie, Rogers doesn't doubt her Oscar chances, but he finds her fatally miscast:
Angelina Jolie's screen presence is, as everyone knowns, competent and forceful which is usually a good thing. Unfortunately her largeness somewhat robs Mrs. Collins of the journey from socially conditioned feminine weakness to lioness strength that we need to watch her stumble through. Jolie is technically proficient enough in these "womanly confusion" scenes but they don't feel organic to the actress and there's no surprise or reveal once she starts fighting back.
Karina Longworth at Spout is even less impressed, and a lot more harsh:
We drink every time Angelina hysterically proclaims, "He's not my son!" We get very drunk, and this may be why we can't figure out why Clint Eastwood made a cheap-looking Lifetime movie that eventually turns into an "And justice for all!" episode of SVU … Angelina's constant tears keep flowing, long after the stakes have vanished, because Eastwood can't help but indefinitely extend the misery.
The Playlist joins the chorus of disapproval, declaring Jolie "Oscar-deserving," but finding the film itself "endlessly long, far-fetched and replete with predictable classic Hollywood filmmaking notes." Meanwhile, Ed Douglas of Coming Soon hasn't posted his review yet, but has made it known that it will be an outright pan.
What gives? Is the film that bad? Or with Eastwood's recent run of form, are expectations simply too high? I've been back and forth over my expectations of the film — the trailer was compelling, but I've been left cold by some of the clips that have emerged since, which feature (to my mind) some worrying overacting on Jolie's part. Hopefully things will all add up when I see the entire film, but I can't help feeling a little nervous.