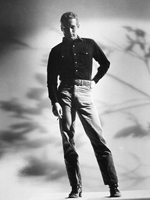 As we head into the weekend, here's a quick overview of what we (and you) have been talking about at In Contention this week:
• Kris paid tribute to the incomparable Paul Newman, as well as rounding up some of the man's greatest performances.
• As the Scott Rudin-Harvey Weinstein soap opera continues, Kris wonders where this leaves "The Reader" in the race.
• John Foote contemplated the screen's greatest leading ladies, past and present.
• Matteo Garrone presented his red-hot foreign-language contender "Gomorrah" in London. I was impressed with the film.
• Speaking of which, all the submissions for Best Foreign Language Film are in.
• In the wake of a sensational new trailer, Apple takes a mouthwatering look at the tech credits of "Australia."
• Continuing the technical conversation, Gerard previewed the runners and riders in the Best Sound Mixing race.
• Clint Eastwood scooped the first in what could be yet another run of awards for him this season.
• And finally, in case you weren't aware awards season has started, the people behind "Frozen River" and "Elegy" would like to remind you otherwise.