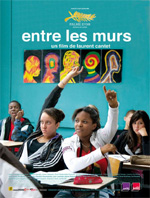 The race starts here. With the deadline having passed on Wednesday, 53 67 countries have submitted a candidate for the Best Foreign Language Film award.
Now it's all in the hands of the Academy's notoriously obtuse foreign film committee. Under a new system aimed to avoid embarrassing exclusions like last year's snub of "4 Months, 3 Weeks, 2 Days" and "Persepolis," the committee will vote on a six-film shortlist, while a smaller executive panel will add three extra titles afterwards.
Looking down the list of titles, there aren't any glaring omissions so far — and it's nice to see left-field festival successes such as "Tony Manero" (Chile) and "Eldorado" (Belgium) in contention. There is still the problem of the 'one film per country' rule which means exceptional films such as "Il Divo" and "I've Loved You So Long" can't compete. From a personal perspective, I'm also a little disappointed to see only two African entries: I fully expected Ethiopia to submit the much-acclaimed Venice success "Teza," but it wasn't to be.
As I've said before, making predictions in this category is nigh-impossible, but for the hell of it (and so you can jeer at my foolishness come January), I'm hazarding a guess as to what the nine semi-finalists will be. My predictions, and a full list of the contenders, after the jump:
A film for which I've already expressed my admiration, Italy's much-buzzed "Gomorrah" is an obvious frontrunner, though its graphic violence could frighten off more squeamish voters. With the safety net of the new voting system, however, I can't imagine it not making the cut. Its fellow Cannes award-winner, France's docudrama "The Class," has passionate critical support and a prominent slot at the New York fest. I say it's in.
Last year, the committee was accused of an anti-animation bias when they snubbed "Persepolis." This year, they have a chance to reverse that perception by nominating Israel's "Waltz With Bashir," another critical darling from Cannes that should also garner a Best Animated Feature nod. The committee is surely aware that their credibility is on the line after last year's farrago, and I think they might welcome the chance to nominate something as fresh and unique as Ari Folman's film. Jordan, meanwhile, makes their first ever appearance in the race with "Captain Abu Raed," a sentimental crowdpleaser that won an Audience Award at Sundance. I suspect it could be first time lucky for the nation.
I expect to see two more European cinema stalwarts in the shortlist: Germany's controversial "The Baader-Meinhof Complex" has received mixed reviews but should benefit from being one of the most highly-publicised films in contention. Sweden's "Everlasting Moments," meanwhile, was widely admired at Toronto and comes from veteran Oscar nominee Jan Troell.
Rounding out my predictions, I'm going with Norway's "O' Horten," Russia's "The Mermaid" and Argentina's "Lion's Den," all of which I've discussed before. As for the final five, I've taken a wild stab on my predictions page.
I'm probably way off the mark here — this is one category that never ceases to confound me. Things will also become clearer after I see several of the contenders (including the French, German, Israeli, Argentinian, Turkish, Slovakian, Belgian, Czech, Austrian, Polish, Chilean and Palestinian entries) at the upcoming London Film Festival.
What do you think? Share your thoughts and predictions in the comments.
FULL LIST OF SUBMISSIONS (Director's name in brackets):
updated 12 October
Afghanistan, "Opium War" (Siddiq Barmak)
Albania, "The Sorrow of Mrs Schneider" (Eno and Piro Milkani)
Algeria, "Masquerades" (Lyes Salem)
Argentina, "Lion's Den" (Pablo Trapero)
Austria, "Revanche" (Gotz Spielmann)
Azerbaijan, "Fortess" (Shamil Nacafzade)
Bangladesh, "Aha!" (Enamul Karim Nirjhar)
Belgium, "Eldorado" (Bouli Lanners)
Bosnia-Herzegovina, "Snow" (Aida Begic)
Brazil, "Last Stop 174" (Bruno Barreto)
Bulgaria, "Zift" (Javor Gardev)
Canada, "Necessities of Life" (Benoit Pilon)
Chile, "Tony Manero" (Pablo Larrain)
China, "Dream Weavers" (Yu Gun)
Colombia, "Dog Eat Dog" (Carlos Moreno)
Croatia, "No One's Son" (Arsen Anton Ostojic)
Czech Republic, "The Karamazovs" (Petr Zelenka)
Denmark, "Worlds Apart" (Niels Arden Oplev)
Egypt, "The Island" (Sherif Arafa)
Estonia, "I Was Here" (Rene Vilibre)
Finland, "Home of Dark Butterflies" (Dome Karukoski)
France, "The Class" (Laurent Cantet)
Georgia, "Mediator" (Dito Tsintsadze)
Germany, "The Baader-Meinhof Complex" (Uli Edel)
Greece, "Correction" (Thanos Anastopoulos)
Hong Kong, "Painted Skin" (Donnie Yen)
Hungary, "Iska's Journey" (Csaba Bollok)
Iceland, "White Night Wedding" (Baltasar Kormakur)
India, "Taare Zameen Par" (Aamir Khan)
Iran, "The Song of Sparrows" (Majid Majidi)
Israel, "Waltz With Bashir" (Ari Folman)
Italy, "Gomorrah" (Matteo Garrone)
Japan, "Departures" (Yojiro Takita)
Jordan, "Captain Abu Raed" (Amin Matalqa)
Kazakhstan, "Tulpan" (Sergei Dvortsevoy)
Kyrgyzstan, "Tengri" (Marie-Jaoul de Ponchville)
Latvia, "Defenders of Riga" (Aigars Grauba)
Lebanon, "Under the Bombs" (Philippe Aractingi)
Lithuania, "Loss" (Maris Martinsons)
Luxembourg, "Arabian Nights" (Paul Kieffer)
Macedonia, "I Am From Titov Veles" (Teona Strugar-Mitevska)
Mexico, "Tear Up My Life" (Roberto Sneider)
Morocco, "Goodbye Mothers" (Mohamed Ismail)
The Netherlands, "Dunya and Desie" (Dana Nechushtan)
Norway, "O' Horten" (Bent Hamer)
Palestine, "Salt of This Sea" (Annemarie Jacir)
The Philippines, "Ploning" (Dante Nico Garcia)
Poland, "Tricks" (Andrzej Jakimowski)
Portugal, "Our Beloved Month of August" (Miguel Gomes)
Romania, "The Rest is Silence" (Nae Caranfil)
Russia, "The Mermaid" (Anna Melikyan)
Serbia, "The Tour" (Goran Markovic)
Singapore, "My Magic" (Eric Khoo)
Slovakia, "Blind Loves" (Juraja Lehotskeho)
Slovenia, "Rooster's Breakfast" (Marko Nabersnik)
South Africa, "Jerusalema" (Ralph Ziman)
South Korea, "Crossing" (Kim Tae-Gyun)
Spain, "The Blind Sunflowers" (Jose Luis Cuerda)
Sweden, "Everlasting Moments" (Jan Troell)
Switzerland, "The Friend" (Micha Lewinsky)
Taiwan, "Cape No. 7" (Wei Te-Sheng)
Thailand, "Love of Siam" (Chookiat Sakveerakul)
Turkey, "Three Monkeys" (Nuri Bilge Ceylan)
Ukraine, "The Illusion of Fear" (Aleksandr Kirienko)
United Kingdom, "Hope Eternal" (Karl Francis)
Uruguay, "Kill Them All" (Esteban Schroeder)
Venezuela, "The Taint of Fame" (Alejandro Bellame)